Congratulations to Griffin Poetry Prize Winner, Eve Joseph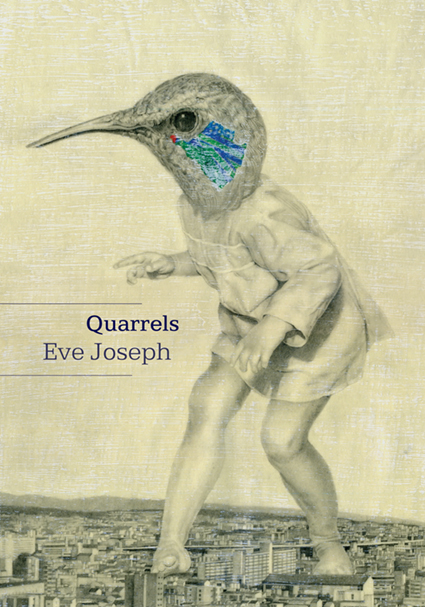 A heartfelt congratulations to Eve Joseph, who recently won the $65,000 Griffin Poetry Prize for her book, Quarrels. Check out Miranda Pearson's review of the book in EVENT Issue 47/3, or right here on our website.
Griffin Poetry Prize Judges' Citation
"In Quarrels, Eve Joseph's delightful collection of prose poems, you enter the marvelous and that is the truth! The poet has surrendered herself to the realm of the illogical, trusting that it has a logic of its own, and the outcome is, indeed, a new music. These poems are intriguing spaces and moments defeating the boundaries of the real, but rest assured, Joseph leads you by the hand with warmth, wit and empathy.
Perhaps these poems are crystallisations of a deeply human, spiritual knowledge, gathered over decades working in a hospice. Joseph's previous book, the exceptional memoir, In the Slender Margin, renders this experience. Certainly, without gravity, poems wouldn't be able to sing. As distillations of life, these poems, with beauty and charm, hold their own credibility: an omnipresent, merely-in-glimpses-tangible marvelousness, miraculously fastened to the pages of a single slender volume that will fit into most pockets and assure magnificent company on any given journey."
—
Eve Joseph grew up on unceded Squamish territory (North Vancouver) and now lives in Victoria on the unceded territory of the Lekwungen people. Her latest book of poetry, Quarrels, was released in May 2018 by Anvil Press. Her book about death and dying, In the Slender Margin (Patrick Crean Editions, 2014; Arcade Publishing 2016), won the Hubert Evans Non-Fiction Award. Her two previous books of poetry, The Startled Heart (Oolichan, 2004) and The Secret Signature of Things (Brick, 2010) were both nominated for the Dorothy Livesay Award and in 2010 she was awarded the P.K. Page Founder's Award for poetry. Her work has been published in a wide number of Canadian and American journals and anthologies. Her nonfiction has been shortlisted for the CBC Literary Awards and her essay "Intimate Strangers" was nominated for a National Magazine Award and won both The Malahat Review's Nonfiction Award and the Western Magazine Awards "Gold" category for the B.C. and Yukon Territories. Of the piece in Malahat, the final judge wrote: "the essay illuminates one of the great mysteries of the human condition with a supple and often incandescent array of imagery, insight, allusion, even humour – and a daring lack of sentimentality."