And the winners are…
FIRST PLACE ($1,500):
'Penance' by Cayenne Bradley, Vancouver, BC
SECOND PLACE ($1000):
'All My Love, Alex' by Vicki McLeod, Nanaimo, BC
THIRD PLACE ($500):
'One Route, Over and Over' by Nicole Boyce, Calgary, AB
The winning entries, along with David A. Robertson's judge's essay, will appear in EVENT 51/1 (Spring/Summer 2022).
Congratulations to all the other short-listed entrants:
'I Love Lucy,' Sandy Pool, Winnipeg, MB
'If I Wrote the News,' Tricia Dower, Sidney, BC
'The House,' Jason Jobin, Victoria, BC
'An Artist's Model,' Tove Black, Vancouver, BC
'The Hasty Heart,' Kate Braid, Victoria, BC
'Whence Did I Come,' Crystal Chan, Montreal, QC
'Field Trajectories Triptych,' Rayya Liebich, Nelson, BC
'Hunger: Notes to My Daughter,' Adrienne Gruber, Bowen Island, BC
'The Fabric of Life…,' Michele Philp, Vancouver, BC
Thanks to those writers who sent manuscripts to us and to our contest readers and judge! Visit our Contest page for details on the next contest.
Join our mailing list (on your right), check our blog and follow us on Twitter and Facebook for regular contest updates. Contest terms are subject to change.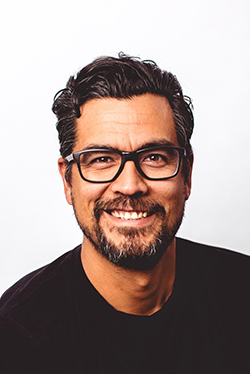 DAVID A. ROBERTSON (he, him, his) is the 2021 recipient of the Writers' Union of Canada Freedom to Read Award. His memoir, Black Water: Family, Legacy, and Blood Memory, was a Globe and Mail and Quill & Quire book of the year in 2020, and won the Alexander Kennedy Isbister Award for Non-Fiction as well as the Carol Shields Winnipeg Book Award at the Manitoba Book Awards. He is the author of numerous books for young readers, including When We Were Alone, which won the 2017 Governor General's Literary Award and the McNally Robinson Best Book for Young People Award. He is a member of Norway House Cree Nation and currently lives in Winnipeg.