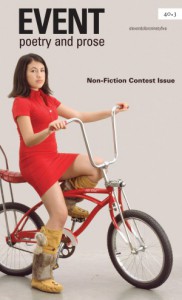 "Simply one of the finest literary magazines in the country." -Lorna Crozier
For 50 years, EVENT has published the very best in contemporary new poetry and prose. We are one of Western Canada's longest-running literary magazines, and welcome submissions written in English from around the world. Each issue of EVENT includes high quality fiction, poetry, non-fiction and book reviews, and we feature emerging and established writers side-by-side in our pages. We also print commissioned illustrations alongside the writing, and each cover features the work of a BC photographer.
"EVENT found my work and brought it out into the world." -Madeleine Thien
We pride ourselves on finding and supporting fresh new voices. After appearing in EVENT, writers have received recognition from the Journey Prize, the National Magazine Awards, the Western Magazine Awards, Best Canadian Stories, Best Canadian Poetry and the Pushcart Prize. We have published many of Canada's most distinguished writers both before and after they gained national or international recognition, and continue to support gifted emerging writers. 
If you'd like to fill your mailbox with Canada's best new writing three times a year, order a subscription here.
What are your best chances of getting published in EVENT? Read an issue! Sign up for our newsletter to receive access to a free sample digital issue.
Then head over to our submission page.
***
EVENT is published by, and affiliated with, Douglas College, a non-profit public institution of higher education based in New Westminster, B.C., Canada.
EVENT gratefully acknowledges financial support toward our editorial and production costs from Douglas College, the Canada Council for the Arts, the Province of British Columbia, the British Columbia Arts Council and the Government of Canada.