What We Want
We're looking for photos that are striking, inviting, compelling, photos that make the viewer look twice. In particular we seek images that are adaptable to a cover, particularly images that are self-sufficient and don't lead the reader to expect additional artwork within the journal. We are currently only accepting photography from BC-based artists, but we welcome submissions from both established and emerging photographers.

Submission Guidelines
We accept email submissions. We recommend that you send low-res versions of your photography/art as small jpeg or pdf attachments, to event@douglascollege.ca. If we are interested, we will request hi-resolution files.
Or send photography/artwork (no more than 10 images), along with a self-addressed, stamped envelope (Canadian postage or IRCs only) for return of your work, to:
EVENT
PO Box 2503, New Westminster, BC
V3L 5B2 Canada
We do not buy the actual piece of art; we pay $200 on publication and two copies of the issue plus 10 extra covers for the use of the image.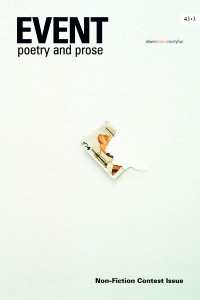 Above: EVENT cover for issue 43.3, photo by Jeff Downer.