Community Matters at Growing Room 2020: Hannah Macready Interviews Jessica Johns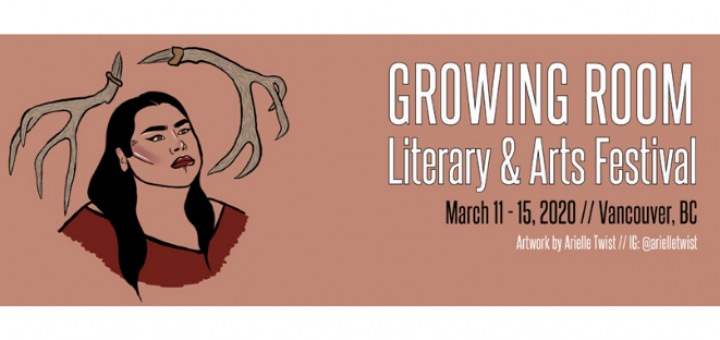 Jessica Johns is a nehiyaw aunty and a member of Sucker Creek First Nation in Treaty 8 territory of Northern Alberta. She is the managing editor of Room magazine and a co-organizer of the Indigenous Brilliance reading series, a collaborative series between Room and Massy Books celebrating Indigenous women/2SQ storytellers. She has been published in Cosmonauts Avenue, Glass Buffalo, CV2, SAD Magazine, Red Rising Magazine, The Rusty Toque, Poetry is Dead, and Bad Nudes, among others. Her short story, "The Bull of the Cromdale" was nominated for a 2019 National Magazine Award in fiction and her debut poetry chapbook, How Not to Spill, is out now with Rahila's Ghost Press.
From March 11 – 15, 2020, the fourth Growing Room festival will present 100+ diverse women and genderqueer authors in 30+ events, attracting an expected 800+ unique readers, writers, activists, and publishing industry professionals for five days of workshops, panels, and special events in various venues around Vancouver. The first three festivals attracted over 500, 600, and 900 unique attendees respectively, and the third festival had a total attendance of over 2,500. Room is committed to inclusion and accessibility, and registration for panels and readings at the festival are pay what-you-can or by-donation.
Growing Room is a celebration, a protest, a reflection, a re-visioning, a gathering, a question, and a dream.
—
Hannah Macready: This is Growing Room's fourth year running, and for those of us who have been attending the festival since its conception, it is a very exciting year. It is beautiful to see how this festival has evolved and how the dedication of the Room collective has allowed the vision of the festival to flourish. Looking at this year's lineup, there is a stunning amount of Canadian talent. Can you tell us a bit about your curatorial process? What was important for you to highlight?
Jessica Johns: Thank you! We are extremely excited about this year as well.
The curatorial process was lengthy and involved, and intentionally so. As with every year, the rotating programming committee was selected. I chose to involve members of our Room collective, as we always do, as well as ask folks from outside of Room to be on the committee. This was for a couple of reasons: firstly, because I believe if you want to build something for the community, you have to meaningfully involve the community. Second, we needed a way to hold Room accountable for our curation. An insular programming team where everyone is involved with Room could result in an unintentional bias towards the magazine. It was my hope that outside members would hold us to a higher standard and allow us to look past ourselves in a way that would be generative to the curation.
To this end, the wonderful programming members selected were Nav Nagra, Kayi Wong, Chelene Knight, Jillian Christmas, Serena Bhandar, and Carleigh Baker.
At our very first programming meeting, we asked ourselves: Who is this festival for? We discussed it at length and came to the agreement that we were creating this festival for our communities, and specifically queer and trans folks, and Indigenous, Black, and people of colour. Whenever we were stuck on a question or were unsure how to move forward with something put to us, we would come back to the question, "Is this serving who this festival is for?"
The other thing I wanted to highlight was storytelling in various forms. "Literary" means many different things to many different people; it's not just the written word, and I wanted to showcase that. I wanted to see artwork, film, performances, and music. This also worked into our decision to hold a marketplace as well. Our vendors are all telling stories: Their soaps, their jewelry, their zines and prints are all avenues for storytelling that we're showcasing in another way.
We then all went through the hundreds of festival pitches we received, which was triple the amount from last year. There were some submissions directly from publishers and agents, and some from individual artists. We also pitched our own ideas to one another for individual artists and for specific types of events. We considered and talked about all of these together, considering each and every outside submission and our own, and how they could work together within the festival given our previous discussions on who this was for and what we wanted to highlight.
We accepted nine pitches from individual community members for specific events. We then worked with these community members collaboratively to ensure that these events were realized to their intended vision, while also making suggestions based on our own capacities and, sometimes, constraints. So this wasn't a transactional interaction; we continued to work with folks to curate these additional events to something we were all happy with. We didn't want to pay lip service to our commitment to working with the community. We wanted to put meaningful action behind it. But involving collaboration in these special events was truly wonderful. It was a project in relationship building, which I also believe the festival at large is and should be. Special thanks to our community collaborators who helped us curate special events: the Indigenous Brilliance team, Isabella Wang, Amber Dawn, Erika Thorkelson, Maneo Mohale, Nisa Malli, Domenica Martinello, Amal Rana, jaye simpson, Dina Del Bucchia, Aimee Louw, Rachel Thompson, Sharon Pink, Doretta Lau, and Jacqueline Turner with the Emily Carr Writing Centre.
HM: This is your first year organizing Growing Room, although you have been a member of the Room collective for quite some time. What made you want to take on this responsibility and how do you think you've made your mark on the festival?
JJ: I didn't actually move into this role with the intent of making marks. My work has been around building further on the important foundational elements already carved out by Chelene Knight, the festival director of the past two years, and Arielle Spence, the first director of the festival.
They both moved through curating the festival with an intention towards community care. This meant to care and support for the artists and attendees as well as the staff and volunteers. I think it was important to continue their legacy and focus on efforts of care, given my own experiences and knowledge, as well as everything we've learned over the past three years of the festival.
HM: Growing Room has been able to maintain its pay-what-you-can commitment over the years, which is impressive for a festival that has grown so much in such a short time. Can you explain why this is important to the organizers and to the community?
JJ: Financial accessibility is really important to us. It's important that we're lessening the barriers, as much as we're able, for people to access the art, discussions, and space sharing that occurs at the festival. We keep revisiting our payment models for the festival, because while the panels and readings are all pay-what-you-can, our workshops and opening night still require payment for registration to ensure we are offering the workshop facilitators and open night performers fair compensation. This year, we have set aside two free spaces in each workshop for folks requiring financial accessibility, and free admission to opening night for those who need it as well. We'll revisit this again after the festival, but I'm hoping to continue to think through different methods of participation in every aspect of the festival that doesn't have a cost barrier.
HM: Last year, when I interviewed Chelene Knight about Growing Room, we talked a bit about the climate of CanLit, how it was failing, and how the new generation was working to change what has been poisoned. I wish I could say that a year later things are different, but there is still a lot of ugly in our community and in our world. How do you, personally, combat the ugly, and how does a festival like Growing Room contribute to greater change?
JJ: The future is queer. The future is Indigenous. The future is Black. The future is artists of colour. The original storytellers have never been a part of CanLit; we were never invited, were never allowed to be. So while the trash-fire of CanLit burns on, we're warming our hands on it and walking away in the footsteps of our community members who have been clearing the way for us for years and years. I hope places like the Growing Room festival, or what I think Growing Room to be, is a place we can all walk to show up as ourselves and just celebrate the fuck out of each other.
HM: Thank you so much for taking the time to speak with us, Jessica. One final question: What kind of growth do you hope to see for Growing Room in the coming years, and how can those participating in the festival help nurture that growth?
JJ: I hope we continue to celebrate the weird and wonderful ways of storytelling, beyond even what we're seeing this year. I hope the future of Growing Room features representation in video games, collaborative storytelling, virtual reality, and music. The only way for this to happen in the future is for folks to engage with us now. Come to events, witness these artists, talk about us to your friends. Keep showing up for us so we can keep showing up for you.
Thank you, EVENT magazine, for doing exactly this, and your continued support!
—
Tickets for Growing Room Festival can be found here.
Hannah Macready lives in Vancouver, BC.