Christopher Levenson Reviews Three Poetry Collections for EVENT 48/1
Christopher Levenson Reviews: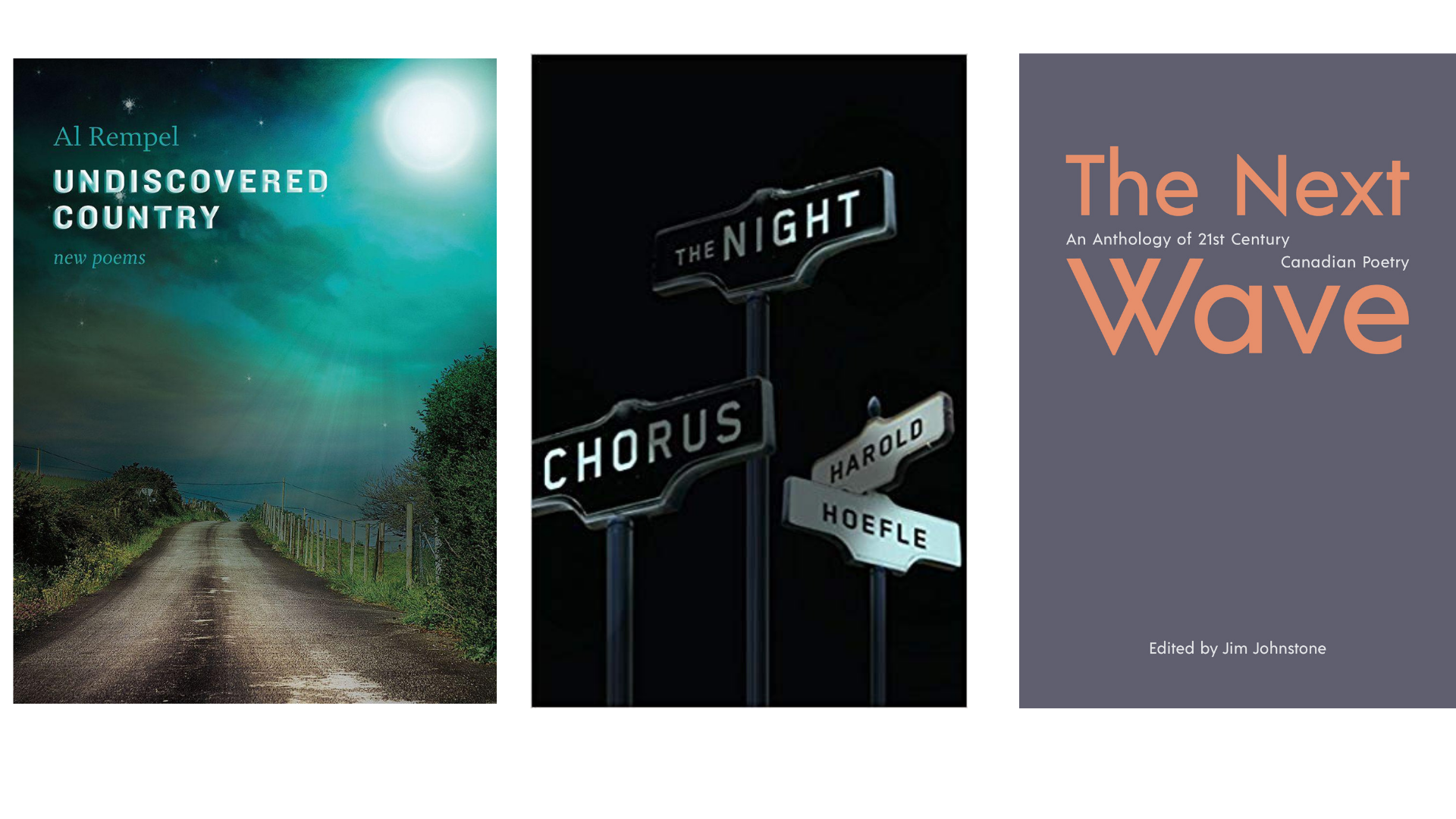 Al Rempel, Undiscovered Country, Mother Tongue Publishing, 2018
Harold Hoefle, The Night Chorus,  McGill-Queen's University Press, 2018
Jim Johnstone, Ed., The Next Wave: An Anthology of 21st Century Canadian Poetry, Anstruther Books, 2018
The middle sections of Al Rempel's Undiscovered Country invite the reader into a poetry devoid of gimmickry, a work that takes itself seriously but not solemnly. Short lyrical passages move easily, from evoking early spring in domestic routines,
and the sky is asking
with its ineffable blue:
will you hold my day like this,
like hot toast held lightly between your fingertips
as you carry it across the kitchen tiles?
to concluding,
and in the days that followed
at playgrounds & in parking lots
I asked all the parents
with my eyes
will you hold your children
even as they grow old?
These are placed between two longer sequences which trace the course of the seasons in both the natural and man-made world around Prince George, BC, nicely evoking the unselfconscious ordinariness of everyday life.
Rempel's poetry is dense with thought and imagery.  Granted, most competent poets will come up with striking visual images, such as this of two crows swooping down on a field:
a deep burgundy glow in their wings, a watermark
imprinted on the sky, bodies ephemeral
like the fan-tailed spray from a sprinkler
shining in the sun
And often it is simply a matter of the exact but unexpected adjective, verb or noun such as 'yellow stalks enmeshed in snow,' 'the last eddies of summer,/swirling out in arms of water farther & farther,/until they dissipate against the shore' or 'the prattle of water on dusty cement.' However, if poems are to be more than a string of gems, readers expect such observations to build to a pattern, an entrance to something that needed to be said, as is the case with Rempel's poetry.
In Undiscovered Country we are constantly aware of an underlying meditative quality, seemingly casual and offhand but always firmly rooted in the everyday. In 'Occasional Poem for a Birthday,' after evoking a man with an artificial arm sitting next to him in a coffee shop and two women whispering about cancer and wigs, he comments, 'I'm not eavesdropping; I'm trying to write a poem/but everything sneaks in: Leonard Cohen from above/singing about angels & redemption.'
Similarly, although interesting viewpoints and concepts enliven good poetry, on their own they are never enough but must be matched by aural and rhythmic skills—Rempel deftly accomplishes this fusion. What impresses most (a quality he shares with the late Don Coles) is how he combines unforced perception and memory with such fluency of syntax and cadence that he is able to explore matters of life and death by drawing on the most mundane events. Since most of these effects are cumulative, his poetry repays a second, slower reading.
Recalling someone he barely knew who was 'taken away in her early thirties,' he writes,
as if life were some kind of green chain,
and death an evisceration of the soul, this dark mill,
clank-a-clanking all night & day,
scaring us awake
Throughout the book, Rempel asks serious questions. Not only is he obviously morally, spiritually and intellectually 'scared awake,' he has also developed the ideal medium for his kind of meditations, so that verse movement and cadence embody a vision that, albeit haunted by mortality, creates a satisfying unity of impression.
Harold Hoefle's The Night Chorus starts off well with a sequence, 'Down the Roads,' that offers vignettes of some of the locals, including the seriously eccentric:
Sester: he's eaten fries everyday since he was twelve,
and when he's drunk he likes to take potshots
at crows, grouse, wood pheasants, turkey vultures
and cars driven by strangers—he's got a blind for that.
Like Rempel, he has a keen eye for the distinctiveness of 'ordinary' people, such as the janitor-cum-rent collector in 'Underfoot' or the character in 'Park Ex,' an unexpected but moving elegy that, as is often the case, catches the reader off balance. Hoefle has a good sense of the dramatic and rises at times to an acerbic wit, as in 'The Inside Dirt,' which ends,
Now the absent father is back:
thin, bent, a bore.
I swim for hours in his talk.
I never touch the shore.
Unlike Rempel's, however, Hoefle's urban world is garish, gritty, disjointed and randomly violent, and his prevailing attitude to it casual, dismissive, blasé.
In 'Death of a Poet,' in memory of Judith Fitzgerald, and 'Rosie,' written for his aunt, Hoefle can occasionally let his guard down and seem genuinely involved. So too in 'Crossing,' about asylum seekers making their way into Canada. Indeed, though his work is frequently physically evocative, too many of these poems outline situations and foreshadow feelings only to drift off into inconsequence. Where Rempel's poetry is interactive and we feel his presence as a participant in the community he evokes, with Hoefle there is little beyond the juxtapositions, little 'value added' or even implied, and aurally none of the sense of flow that bears Rempel's poetry along.
Poetry anthologies are notoriously difficult to review. With those that cover large, familiar areas one can easily waste time lamenting omissions or questioning inclusions, while with new poetry the temptation is to debate the editor's criteria or challenge manifestos of the kind that accompanied F.R. Scott and A.J.M. Smith's New Provinces in 1936 or Robert Conquest's New Lines in 1956. Both had to demolish a previous generation of poets in order to establish their own credentials. In The Next Wave: An Anthology of 21st Century Canadian Poetry, editor Jim Johnstone sidesteps this need by presenting what he claims is a personal sampling of poems by poets who have published their first books since 2001. Nevertheless, he still feels obliged to present a rationale for choosing some of his forty poets—of whom, I confess, I had read or recognized only a third. Thus, adducing the influence of the Internet, which 'has led to a heightened appetite for discovery, and what often amounts to the fetishization of the new,' he speaks approvingly of 'lexical uncertainty' and 'syntactic fluidity,' both apparently part of the 'Discordance, or more pointedly, the vigour of difference' which 'connects the poems' he has selected. Elsewhere he speaks of 'a sleight-of-hand to the poems in The Next Wave, a legerdemain marshaled by poets attuned to the coincident and strange.'
How then does this play out?  While I can appreciate the panache of some of Linda Besner's individual phrases such as 'the world is your Kleenex,' her 'Villeneuve Villanelle' strikes me as self-indulgent, bilingual doodling with 'v' and 'l' sounds. And am I alone in feeling that when Shane Book's puns have to draw attention to themselves, as in 'Underneath this thug armor: a corn ear of nuclear cornea fission./It fuels my new clear cornrow vision,' they are not worth the effort?
But at least the problems here are obvious. With far too many would-be poems I cannot fathom what I am looking at, or why. If, as Eliot famously said, 'Genuine poetry can communicate before it is understood,' does not the reader have to grasp enough intuitively to realize that something there is worth making the effort to understand, and it is not mere arbitrary jeux d'esprit? For my taste at least, too many of these poems are written in ways that seem unconcerned with communicating except perhaps to an in-group of other poets, and make neither an emotional nor an intellectual impact. Maybe in future decades we will regard these poets as equivalent to the University Wits of Donne's era, but for now they seem more intent on showcasing their self-conscious erudition than in connecting with a wider audience. As for the 'elevated rhetorical intricacy' that Johnstone claims for some of his poets, I am dinosaur enough to believe with Yeats that rhetoric is the opposite of poetry, not its embodiment.
All that being said, more than enough remains to justify the anthology, and not just the formal skill of some poets in various versions of villanelles, sonnets and even triolets. I was delighted and charmed, for example, by Alexandra Oliver's genuine wit (rather than mere whimsy) in 'Party Music'; by Raoul Fernandes' poem, 'By Way of Explanation'; and by Catriona Wright's over-the-top 'Gastronaut,' which hilariously skewers foodies; as well as by individual lines such as Suzanne Buffam's 'Wind enters the spruce/and comes out wearing sparrows.' Sadiqua de Meijer also refreshingly deals with a recognizable world, while Joe Denham is one of few contributors who seem aware of sound patterning and cadence as a crucial element of poetry. This is seen—or rather, heard—in the first lines from 'Windstorm':
My saw then silent the clearing reclaimed
the quiet it was as forest before I came,
engine in hand, orchard and house-site
in mind.
A very mixed bag, then, and deliberately so. We should be grateful to the editor for breaking the ground. As always with such anthologies, we shall have to wait and see which of his choices prevail.
—Christopher Levenson
Christopher Levenson is a poet, a mentor and a literary organizer who has published twelve books of poetry, most recent being: A tattered coat upon a stick (Quattro, 2017). His book, Night Vision (Quattro, 2014) was short listed for the Governor General's Award for poetry; and, his first book, In Transit (1959) was the first recipient of the Eric Gregory Award in 1960, where the jury consisted of T.S Eliot, Henry Moore and Bonamy Dobree. Christopher has presented his poetry in Australia, India, Ireland, Russia, the USA, the UK, and of course, Canada. A co-founder and the first editor of Arc magazine, he also taught full-year credit poetry workshop courses twenty five times at Carleton University in Ottawa. Since coming to Vancouver in 2007, he has helped re-start and organize the Dead Poets Reading Series, and he has founded a book club called SALinE (South Asian Literature in English).