Review: Paul Vasey's The River & David Zieroth's The November Optimist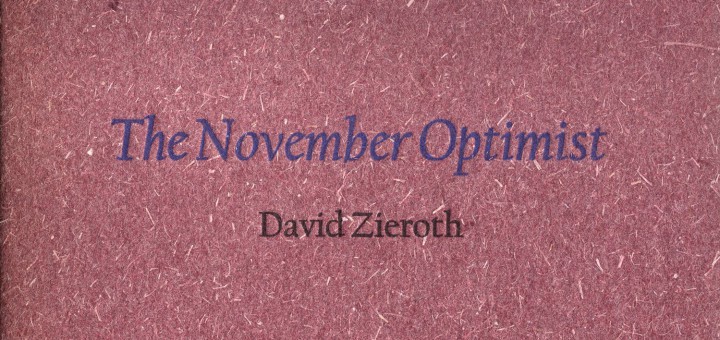 This non-fiction review first appeared in EVENT 43/1
Paul Vasey, The River: A Memoir of Life in the Border Cities, Biblioasis, 2013
David Zieroth, The November Optimist, Gaspereau, 2013
Despite an ostensibly restrictive loyalty to brute fact, the memoir offers writers an invitingly elastic form for subject matter of a dizzying assortment. For example, for an overwhelmed mother (Carellin Brooks's Fresh Hell), a grieving daughter (Cheryl Strayed's Wild), a perplexed son (Bernard Cooper's The Bill from My Father), a yo-yoing alcoholic (Jamie Iredell's I Was a Fat Drunk Catholic School Insomniac), a melancholic apprentice tailor (J.J. Lee's The Measure of a Man) and a pensive tree planter (Charlotte Gill's Eating Dirt), the very amorphousness of the memoir template proves perfectly suitable because it grants tremendous freedom to explore the myriad facets or nuances of lived experience.
Upon glimpsing the evocative title, my snap categorization linked Paul Vasey's The River: A Memoir of Life in the Border Cities to Gloria Anzaldúa's Borderlands/La Frontera: The New Mestiza and Derek Lundy's Borderlands: Riding the Edge of America. Anticipating those titles' philosophical reflections about border culture, or an examination of national traits, or a meditation on the interplay between Canadian and American identities along border-sharing habitats, I soon relearned that useful lesson about jumping to conclusions. In The River Vasey actually invests little in thinking along those lines. Instead, the author features smiling and heartfelt reminiscences about manufacturing and distillery hub Windsor, Ontario, selected from the decades of his journalistic wanderings in an adopted city. Old-fashioned in approach, the memoir aims to provide an idiosyncratic tour through the city's hard-working and hard-drinking booms and busts as it simultaneously strives to preserve all-but-forgotten episodes and figures. The River is a miscellany—retrospective bits and pieces of history, news, anecdote, portraiture and autobiography that one could imagine being spoken around a cracker barrel in a general store—and its avuncular tone echoes Sunshine Sketches of a Small Town, minus the gently mocking humour.
On the final page Vasey writes that what people love about Windsor is its people, and for him, in addition, 'the larger-than-life characters who ghost around in [his] imagination' (including hucksters, politicians, rum-runners, 'hookers and crusty old editors') have made the place continuously alluring. In a rambling yet amiable way, Vasey's memoir describes encounters with interesting people he met over the years: a down-and-out former boxer, for example, as well as a wealthy older woman who is a local history buff, and a savvy alcoholic vagrant with some 700 convictions. He shares snippets from centuries of local history, snapshots from his career as a writer since the mid-1960s at The Windsor Star, mere minutes from the Detroit River, and notes the progressive changes that have occurred since the city's benighted years as an industrial slag heap with toxic water.
Vasey's style throughout is studiously colloquial, even folksy: 'Ah, memory. There's a tricky old gal'; 'Some things are just too good to last'; 'So, many memorable things about Mrs. Major'; 'Here's one I'd never heard before, courtesy of my pal Tom Lucier.' And he often relays his straightforward accounts with a clipped newspaperman's delivery: 'Apart from that, a pretty nice place'; 'Everything fairly tasty and very cheap'; 'All in all, a fine life there by the canal.' The portraiture is fond and kind and generous, sketches of people who made his decades in the city worthwhile. He's not interested in delving into the significance of a border habitat or saying much about border living per se. Mostly, he's commemorating colourful figures who are otherwise gone and forgotten but nonetheless active contributors to the city's unique character.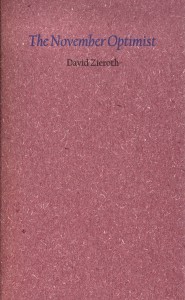 Thirty untitled sections across 80 pages comprise The November Optimist, David Zieroth's memoir-like and poetic prose meditation on desire, hope and despair. 'Combining fiction, observation and anecdote' (and dispensing with all indicators of the lines separating them), the insistently literary and introspective work presents itself as the wintry, fretful, curious, watchful, yearning and intermittently anxious mental activity of a quite solitary man (unnamed, who may or may not be all or some of Zieroth himself). He, the intrigued, reflective flâneur, wanders in inclement weather to cafés and shops, and along familiar corridors in North Vancouver, taking note of regular sights, of graffiti, roadwork, vehicles and strangers—a baby with a heavy diaper, a 'tall lame woman,' a yuppie ordering a coffee, 'smelly beggars.' Sporadically consumed by a 'sour disbelief and sunken idealism…now that the world may indeed be ending,' he seeks respite in love, literature and his own torrent of thoughts. Seeing himself as a 'Conscious Curmudgeon,' chronically somewhat at odds with his own frantic society, the narrator is mostly on a quest for love and companionship, fairly certain that the ideal woman-muse-companion currently in his dreams and conscious desires can be found…somewhere.
Instead of depicting the farcical stuff of sitcoms and romantic comedies—disastrous blind dates and that ilk—Zieroth ably captures the narrator's constant burbling thoughts about what may transpire with his imaginary beloved, what she could say, how she might react if, and so on. He arms himself with literary quotations (the book's 'Notes' pages contain 82 references, including Shakespeare, Byron and Colette) as though to situate himself in the long noble history of romantic thinkers and questers.
Insular and mute—conversations are, by a wide margin, imaginary ones conjured by the narrator—and habitually introspective, the non-interacting narrator of The November Optimist does present challenges for the reader. His erudition, self-containment and tendency toward obsessiveness may be a truthful reflection, but it also registers as oddly hermetic, a series of state-of-mind journal entries that encourage no reader save the author. When the narrator gets profoundly entangled within his own poetic obsessiveness, a reader can appreciate the author's ability to represent the stunning complexity of human cognition. And yet without much besides interiority, a characteristically verbose passage such as this (an imagined interaction with a hypothetical woman) becomes an abstraction, and an impediment to readerly enjoyment or empathy rather than an open invitation:
…and who was he? Someone you still half love, or at least care about, not someone about whom it could be said he 'had insisted on treating the whole thing as nothing at all, hoping it would become nothing,' [quoting Mavis Gallant] someone (once gone) you can actually see now and then without worry or guilt, who unknowingly took some of your cutlery though you're not going to ask for it back, someone you think you know well enough to take in a movie together until you realize he's forgotten to shield himself from his own drear sentimentality, and now he sobs beside you while the two of you drive away from the theatre, and you can't help shaking your head and thinking once again that like so many men (you allow yourself this cruel generalization) 'he hath ever but slenderly known himself,' [quoting Shakespeare] and so you probe gently, trying to understand what in the film made him cry all the way home?
Then again, Zieroth is not writing for a wide or a popular audience. Nor does he express much of an interest in selling an exciting plot trajectory or spinning a tale for which generating the question 'I wonder what will happen?' is the principal (or even incidental) goal. Taken on its own terms, The November Optimist is an intriguing memoiresque experiment in portraying the tumult of thoughts that stand for one lone individual's consciousness. It is messy, erratic, inconclusive and unsettled, yes, but from time to time aren't we all?
—Brett Josef Grubisic