On Interning at EVENT: A Note from Brittany McGillivray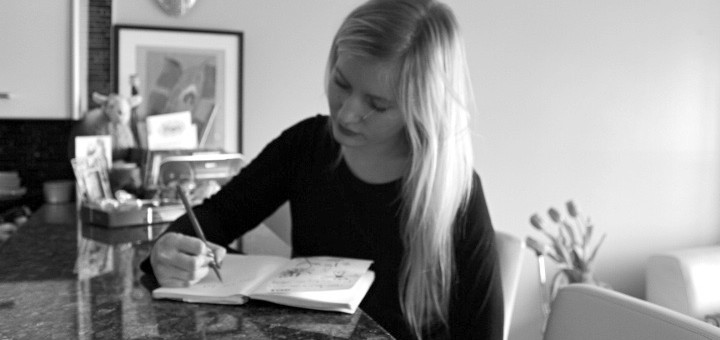 I was beyond thrilled when I found out I had been chosen as the new intern for EVENT. My love of literature has more or less dictated my educational and professional experience to date. I majored in English Literature at McGill University, studied writing and theatre at King's College London, and completed an international journalism program at Sciences Po. Paris. I spent a summer at the Montreal small-press Vehicule Press; wrote, pitched, and edited articles at Alternatives International Journal; and worked for the incredible book/toolbox/international network Beautiful Trouble. I've written freelance articles for music blogs, health magazines, and grassroots journals. Along the way I've developed skills in writing, editing, research and proficiency across various media platforms. All of these positions have allowed me to explore language's ability to inspire, to express the intricacies of human experience, and to generate positive social change.
When I returned to Vancouver after months of travel, I knew I wanted to find a position where I could build upon my previous experience in publishing. Thanks to a wonderful initiative from MagsBC, I landed a joint-internship at EVENT and subTerrain magazines. I work at both magazines on a part-time basis, allowing me to learn from two very different teams of passionate editors and publishers on the whats and whys and hows of putting together a literary magazine.  Both publications have refreshed and furthered my engagement with literature, and, above all, reminded me of why I love to read and write. The juxtaposition of the two positions keeps me on my toes as I bounce back and forth between the EVENT office at Douglas College and the subTerrain office around the corner from my own home base off of Main Street.
Seven months ago, I was traversing a very different landscape–making a solo trek, first by ferry and then on a crowded, sticky bus ride, from a little island off the southern coast of Cambodia called Koh Rong, to Kampot, a tranquil riverside town. After weeks on a magical, busy island, Kampot's calm, silent streets were jarring. The word 'sleepy' hardly does it justice–it was lethargic, somnolent, comatose. I couldn't adapt to the change of pace; even my movements felt off, not languid enough.
On my first full day, I sought out a café called Ellie's in what I jokingly called the 'Manhattan' of Kampot, for the lineup of tuk-tuks stationed on the main road.  I set myself up with coffee, my tablet, and my journal. It was the first time I'd been alone in weeks. Out of necessity as much as the desire to record my adventures, I wrote for hours. The chaos of my recent misadventures made more sense once delineated on paper. I didn't miss the friends I'd parted ways with quite as much; I could hear their voices and funny one-liners on the page. And I wrote about home, about Sunday night dinners with my family, about the seawall and mountains, the endless sushi restaurants. My melancholy gradually lifted.  The Anais Nin line came to mind: "We write to taste life twice, in the moment, and in retrospection."
This role at EVENT doesn't require much writing, but I've been lucky enough to do a fair bit of reading.  While going through fiction and poetry submissions, sometimes I'll pass over a line that will violently evoke a memory or feeling from my travels. It may not have any literal relation; the compound of images will trigger an unnamed feeling–something like an appreciation or cherishing of the scope of human experience. Much like travelling, reading expands and strengthens your internal life, while transporting and moving you–shifting your opinions, views, and dispositions. I am constantly in awe of the immense talent of our contributors. Their writing stimulates new thought, feeling, transports you from coast to coast; their voices and images collectively incite a Canadian landscape, a sense of  'Canadianness.'
At EVENT, my responsibilities vary depending on the day–sometimes I'm logging contributor info for hours, other times I'll read through piles of fiction, poetry, non-fiction. I've stuffed and sealed quite a few envelopes (only a couple thousand).  I've conducted interviews with writers and researched and developed a readership survey. My next big task is to implement the survey and to find out what readers want more of from our magazine–a job I'm very excited to complete, as I'm curious to know which parts of EVENT you love, what we can improve on, and how we can continue to best showcase contemporary Canadian literature.
Through this position, I've also witnessed a community among the various Canadian publications dedicated to providing a platform to showcase and celebrate our talented writers. Either through ad swaps, joint events, advice, or testimonials, these publications help each other out, propel readers from one magazine to the next, and reiterate each other's worth. There are so many emerging writers of fiction, non-fiction and poetry that deserve to be read; it's been a privilege to be privy to (and a small part of) a community of excellent Canadian literary magazines that give them this opportunity. Their words make me glad to be home again, to be working on something coming out of my own province. I fully plan on sneaking copies of EVENT and subTerrain into my suitcase on my next trip, so that the next time I'm a little homesick, I can be easily transported home.
---
 By Brittany McGillivray