Summer Reads 2014 (with the EVENT editors)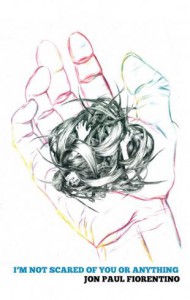 Hello beloved readers! We at EVENT thought it would be fun to jot down a few notes on our summer reading picks. If anything here piques your interest… read it! Happy summer.
The EVENT Editorial Staff
I'm reading Jon Paul Fiorentino's I'm Not Scared of You or Anything. I love this book of short comedic fiction because the stories are really short and funny. And the book has pictures in it, too, so I don't have to read too much—which is great because reading… you know… yuck.
Editor Elizabeth Bachinsky
Last week while on the exercise bike I read two great short stories from The Walrus's Summer Reading Double Issue: Stephen Marche's 'Ultrasound'(about the romantic encounter of an ultrasound technician so logical he makes Spock seem warm and fuzzy) and Kathryn Kuitenbrouwer's 'Care and Feeding of the Amish' (about a Grade 6 class who kidnap an Amish boy while on a field trip and adopt him as the class pet). Both excellent, quirky reads.
I've just started Ian McEwan's 2013 novel Sweet Tooth which follows the adventures of a bishop's beautiful daughter recruited by MI5 in the 1970s, and sent on a secret mission involving a writer (or so reads the cover copy). I'm only at the recruitment part now, but I can read anything by that man!
My long-awaited summer read is, however, Patrick DeWitt's 2011 novel The Sisters Brothers, winner of the Governor General's Literary Award for Fiction, the Rogers Writers' Trust Fiction Prize, the Stephen Leacock Medal, etc., etc. One reviewer described it as 'A kind of True Grit told by Tom Waits.' Now if that's not an endorsement, I don't know what is.
Managing Editor Ian Cockfield
I just finished Alan Warner's The Stars in the Bright Sky, which catches up with the characters from his 1998 novel The Sopranos a few years later. The young women reunite at Gatwick Airport, hell-bent on getting away for some fun in the sun. The novel follows them for the next four days as they drink, smoke, fight, cry, drink, barf, commiserate, fight and drink some more. It's rowdy and hilarious, with Warner sustaining the mayhem mainly through the brilliant dialogue, while also working in themes of class differences, aging and nationhood. Once the slow-motion car crash of a plot got going, I didn't want to abandon these characters for a second. In the final pages, just when I'd accepted that I'd have to release them to their further, undocumented adventures, Warner heartlessly twists the narrative blade. I'll admit I had to gather myself for a few minutes (I was on my lunch break at work) after I'd closed the book.
Proofreader Rob Hughes
I
don't know what my number one is, but I am reading Kathleen Winter's Annabel, a remarkable book with its hermaphrodite hero/heroine that challenges our gender stereotypes. In Annabel, Winter explores the nature of the self outside the boundaries of gender and social expectation. With the wondrous appearance of the spirit caribou as witnessed by a blind man and his red-haired daughter, Annabel, we come to associate that child's spirit with the unusual identity of the boy/girl Wayne who is born in the next chapter. Annabel is, by turns, poetic and stark; it is a realistic, wise and warm-hearted read.
Another book that I enjoyed above many others that I read a year ago is David Mitchell's A Thousand Autumns of Jacob de Zoet. That novel is a page-turner but also serious literature, as it combines a historical novel set in 18th-century Dutch colonial Japan with elements of fairytale and Japanese culture—a truly poetic novel in its style and reach.
Reading Service Editor Gillian Harding-Russell
My summer read is Meg Wolitzer's The Interestings. It's about a group of teenagers who attend an artsy summer camp in the Berkshires and decide to call themselves (semi-ironically) 'The Interestings,' because of their wit and talent. The story follows them from adolescence well into adulthood and explores the potential fates of those with artistic promise. The book is sharp and funny and complex, full of nostalgia but large in scope, and takes surprising turns. It's a pleasingly indulgent read for those of us with similarly creative ambitions.
Shashi Bhat
I've been reading pretty steadily throughout the summer, thanks largely to the demands of my intrepid, lively reading group which meets every two weeks. I struggled to feature only one book for this blurb and couldn't do it, so have opted for a dynamic trio that I happened to consume, one immediately after the other: Kate Atkinson's Life After Life, Ruth Ozeki's A Tale for the Time Being, and Jennifer Egan's A Visit from the Goon Squad. Their similarities are many. All three books have been nominated for, or have won, major literary prizes. They are gorgeously written; tackle big, topical themes; offer worlds that reflect parts of my own yet are still hugely and satisfyingly alien. Some of their characters have burrowed deeply into my imagination where, I suspect, they'll remain for a long while. Each work yields plenty for the mind to digest and the reading group to dissect.
Perhaps the most tantalizing and mind-bending parallels lie in their treatment of time and memory. Atkinson's Life After Life hinges on the 'sliding door' theory of time, space, and probability. We witness various versions of Ursula's life—what if she dies during birth or what if she survives? What if she escapes the London Blitz or what if she succumbs to the wounds inflicted during the bombing? And so forth throughout this dazzlingly fractured tale. As the timeline pendulum swings, the alternative 'what if' realities cleverly, movingly, intertwine. Ozeki's double narrative in A Tale for the Time Being reaches across continents and time as Nao, a 16-year-old struggling with her life in Tokyo, writes a diary addressing a future reader whom she assumes she'll never meet. But we meet the journal's proprietary recipient, Ruth, who lives on the other side of the world from Nao, and who works to track down the young writer before it's too late. I'll be vague here so as not to give too much away. But, yes, time, place and certainties are slippery devils. Aptly, Nao's journal cover is a co-opted version of Proust's À la Recherche du Temps Perdu.
Proust's spirit also emerges, via two epigraphs, in Egan's book. Divided into interlocked segments or chapters (each of which could stand alone), Goon Squad's narrative moves trickily in and around time (as one reviewer said of this book's structure, 'Time is a Möbius strip, not a line'), ricocheting between past and present, each segment centre-staging a character or two who are bit players in a previous or successive chapter. Reading this book was like putting together the pieces of a giant puzzle (with its multiple narrators, shifting points of view, kaleidoscopic voices, witty 70-page faux power-point presentation, etc.). The brilliant sum of its parts emerges fully only at the end.
I loved these books. I'll bet you will too. Find the time to read them.
Reviews Editor Susan Wasserman
I just polished off Joshua Ferris's
2014 novel To Rise Again at a Decent Hour, which mixes a fair amount of humour, doubt and dentistry with a somewhat flabby plot. Ferris has a really fun alt-lit style which shines through in his characters' awkward engagement with pop culture and relationships. This is maybe not the book for everyone, and it might not live up to its fantastic title, but it's well worth a read. Now I'm on to Love in the Time of Cholera, because I call myself a Gabriel Garcia Marquez fan and haven't read it yet. Shame on me. I'm only 100 pages in and it's as dense, vibrant and difficult as I expected.
I've also been devouring the Kings College London–funded History of Philosophy Without Any Gaps podcast, which isn't (strictly speaking) 'reading,' I know, but host Peter Adamson has a gift for breathing a lot of life (and a bit of humour) into the Western philosophy canon. I also think that his voice sounds a bit like mine. Check it out!
Web Editor Joshua Grant