Hollay Ghadery Reviews New Fiction for EVENT 51/1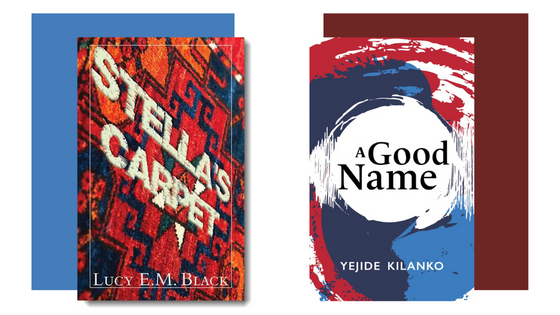 Hollay Ghadery Reviews:
Lucy E.M. Black, Stella's Carpet, Now or Never Publishing, 2021
Yejide Kilanko, A Good Name, Guernica Editions, 2021
Stella's Carpet by Lucy E.M. Black is an exquisite portrait of a family struggling to come to terms with intergenerational trauma caused by war: specifically WWII and the Iranian Revolution. Set in and around modern-day Toronto, the story is told from the various perspectives of a family: Stella; her mother, Pam; her father, William; her step-mother, Fatima; her maternal grandmother, Maria; and her maternal grandfather, Stanislaw. Much like the weaving of a carpet, Black's third-person narrative is composed of short, fluid sections that skillfully weave story over story, creating a multiplicity of narrative threads and perspectives.
The novel begins with Stella, whose voice predominantly guides us. Her narrative thread grounds us as we follow another thread, and then another and another, switching back and forth between narrative perspectives until we arrive at a vivid and full picture of a family. The effect is unpredictable, but never disorienting.
Through Stella we are brought into a world of half-realized truths and half-formed identities. A first-year teacher at a small-town school, Stella lives at home with her mother, Pam, who fears she will be abandoned by her daughter as she was by her husband. She keeps Stella close, placing excessive demands on her. Stella shops, cooks and cleans for her. This daily domestic labour stunts her social life, making Stella unhappy, but she feels bound to her mother who is unwell, though how or why is initially unclear. As the novel progresses, we learn that Pam's illness is mental, the result of the trauma that affects the whole family. The identity Pam creates for herself—that of a spiteful invalid—is one she uses to protect herself from further hurt.
Other characters also create identities to avoid further pain. Stella's grandfather Stanislaw constructs stories of his experiences as a Pole during the Nazi occupation of his country in order to live with what he did—and didn't—do. As their stories unravel, we begin to see past these identities to the real and raw people underneath.
When Fatima, the novel's carpet expert, writes of carpet making, one can infer how art reflects the fabrication of identities: 'What message do we wish to communicate in the carpet we weave? What statement will we convey in the iconography and symbols we select?'
How does the way we speak to ourselves and each other create our reality? Black considers these questions, masterfully using her characters' perception like individual colours in a carpet to show how language—verbal or otherwise—ultimately allows us to know ourselves, others and our world.
Michel de Montaigne once wrote, 'We need to interpret interpretations more than to interpret things.' Using this quotation as an epigraph to his essay 'Structure, Sign, and Play in the Discourse of Human Sciences,' Jacques Derrida argued that knowledge is not based on eternal truth, but rather on the constructs we've created and patched together. While reading Stella's Carpet, I kept coming back to the concept of bricolage, Derrida's term for the act of using the linguistic tools at hand to understand our world. The way in which characters give voice to their life and their experiences creates their realities, for better or worse. Black's writing beautifully and intricately shows that rather than being a reflection of content, the form is the content, and vice versa. Language is the thing, the carpet, our reality.

Books with unlikable main characters aren't uncommon, and make us confront and test the limits of our own belief systems. The central character of A Good Name by Yejide Kilanko, Eziafakaego Okereke, brings this unlikability to a fascinating new level. Right until the end of the story, it's easy to invest oneself in expecting more of him. Kilanko's Eziafa is a complex, unforgettable study of someone who is perpetually on the verge—of being the perfect son, finding a more lucrative career, and achieving romantic fulfillment.
When this remarkable novel begins, 40-year-old Eziafa has been living in America for 12 years. He's a taxi driver, a role in which he takes a certain amount of pride, but it's also one he doesn't want to do forever, particularly after being robbed at gunpoint while driving. He aspires to something different, though exactly what remains undefined. It's in this state of being not fully realized that Eziafakaego spends his life, and it's toward a vanishing horizon of greatness that he moves throughout the novel.
While Eziafa's vision for his own life is half-formed, as a character he feels complete in his complexity. There's a constant pull in the story between what he truly wants and what is expected of him—a culturally imposed duty that he feels compelled to fulfill. This pull is first seen in his relationship with Jovita, a woman he's dating in America who is Igbo, like him, but also Westernized enough to have more liberal attitudes about gender roles. These attitudes, he knows, will fly in the face of his family's expectations.
His mother back home in Nigeria pressures him to get married, and eventually he agrees, which means breaking things off with Jovita. It is a decision he struggles to make since he loves Jovita and even begins to admire her American spirit. Influencing his decision is the fact that his father is dead—and that he died when Eziafa couldn't go home to say goodbye. He recalls his father's words about the 'two types of women': 'There were ones who were suitable for marriage and there were enchantresses who wise men kept as cherished lovers. If one was lucky, one married a woman who commanded one's full attention.' Eziafa concludes that despite her charms, Jovita wouldn't make a suitable wife. Eziafa's reasoning reflects the belief system in which he has been raised, one that relegates women to the role of either wife or mistress, but it also speaks to his understandable desire to please his parents.
Eziafa's trip home to find a wife seems to wring out much of his acquired American attitudes. It's here I first encountered strong resistance to him: he chooses 18-year-old Zina for a wife although she doesn't want to be married to him. His behaviour toward her swings between kindness, indulgence and a desire to control. Once back in America, he gives her a bank card so she doesn't have to ask him for money, but he also forbids her from spending time with certain Americanized friends he considers bad influences. In many ways, Zina is still a child when she first marries him, and he treats her as such while demanding she behave like an adult and a 'proper' wife.
With Zina's introduction as a character, we're offered another look at Eziafa—both through her naive eyes and, since the narration is in third-person, through a well-crafted narrative lens. We see Eziafa's ambitions start to consume him and destroy what he longs for most: success, a good wife and a good name. Zina's presence is a powerful counterpoint to Eziafa, showing us how both financially and sexually Eziafa undermines himself at almost every turn.
'Knowing the truth and not telling it is what kills old men.' This is a remembered sentiment from Eziafa's father, which is related early enough in the book to foreshadow a tragic and inevitable end. Both Eziafa's and Zina's inability to accept the reality of their situation contributes to their undoing. In A Good Name, Kilanko manages to create brilliant, complex characters who are bursting with raw humanity that makes understanding them inevitable, even if—in the case of Eziafa—they're impossible to forgive.
In the end, Kilanko's narrative doesn't overtly condemn characters or cultures. Rather, she creates a web of cultural and personal complexities, placing the reader squarely in the centre. From here we're forced to acknowledge there are no simple answers, no easy way out.

—Hollay Ghadery