Books I'm Re-Reading: Field Notes for the Alpine Tundra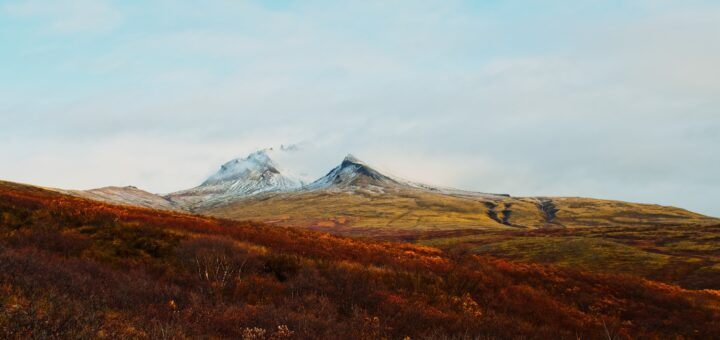 Elena Johnson's Field Notes for the Alpine Tundra (2015), a collection of poems written at a remote ecology research station in the Yukon, was published by Gaspereau Press in 2015. In 2021, Luba Markovskaia's French translation of the book, Notes de terrain pour la toundra alpine, was published by Jardin de givre, and was the winner of the 2021 John Glassco Prize for translation.
---
When I'm reading poetry, I can mutter lines together to read something the writer never intended. Poet Elena Johnson opens Field Notes for the Alpine Tundra with a description of the biome found in the Ruby Range mountains, where she lived for several weeks in 2008. Because this preface note is familiar, I skim it. I'm a fan of eisegesis (reading oneself into a text) so I mumble over the familiar opening and instead of "Temperatures are low, and the growing season brief," I read "Temperatures low and growing grief." I carried this thought through this reread, using Johnson's tundra observations to reflect on my own and the communal long-present grief of living in a pandemic.
Alpine tundra terrain changes slowly; grief, too. Humans are capable of surviving exposure of all sorts—icy wind gusts so powerful our eyes weep and we gasp for air; grief so severe our knees fall unprotected to the rocky ground and gravel embeds itself in our skin; harm we cause each other, always a double-edged sword—what skills do we need to thrive here? Can we map the transition from surviving to thriving? How we might grow resilient in our aloneness?
*
I met Elena Johnson in the mountains. On our first day at The Banff Centre, we were guided through a breathing and voice practice, where we imagined ourselves rooted and rising with the mountains just outside the window. We were instructed to draw on the confidence of the steady rock beneath us and speak with power one of our favourite lines of writing. I could remember only one line correctly and managed only to mutter it. I imagine Elena spoke hers with soft clarity, like how she writes.
I never asked anyone at Banff what line they said to the mountain, and I'm glad not to know. This week I've been hung up on the flap, flap, flap of the tent door from "Alone at the Base." Last week it was, no one is ever coming back. But this out-of-context quoting misses how skillfully she uses smallness as a frame to discuss the large loneliness of life in the mountains.
Alone at the Base

The 'door' of the cook-tent
unzipped. It blows open,
blows closed. 

The other tents
flap, flap, flap. No one 
is ever coming back. 
The flap, flap, flap of empty tents in a quiet landscape evokes how loud loneliness can be. Flap, flap, flap is the sound of our shared grief at the emptiness left behind by the disappearance of easy connection. Flap, flap, flap is the dejected, plodding acceptance of further, deepening aloneness each new wave of the pandemic demands of us.
Johnson offers a guide to finding small joy (and the necessity of it) in both pandemics and navigation, in "Map-reading, Directions Not Given":
The closer the contours,
the steeper the slope. 

The map makes most sense
when map, map-holder and actual place
are oriented; when at least two of three
point north. 

Compass must be declinated—
N = 27° E. 
If we orient ourselves towards joy, despite the fog we are currently standing in, we have already made progress towards it.
*
Later that month in Banff, Elena read from Field Notes, and how she read it then is how I hear it in my head: each word considered in full length, gently—like handling a delicate specimen on a slide. Trying to read her work with this in mind, I find Elena teaching me how to approach grief the same way. How to move from the search for the familiar gone in "Mountain List," to the soft acceptance that all things change, all return, in "Edge Effect."
Mountain List

The mountain lonely with sparrows. 
No sheep, no bear.
A few spruce scraggle the bottoms of slopes.
Three ptarmigans brood on this ridge. 
I imagine Elena standing in the damp cool fog, yellow waterproof notebook in hand, creating this sparse list, noting what she can and can't see, not yet seeing herself in relationship with the small quiet of the ancient plants growing around her. What isn't there is the most obvious: the left behind, the loss, the way a body juts out atop the rock, taller than the closest tree.
Edge Effect

Each landscape leaves its mark—
a scratch at the heart, faint
as a pole-scar on talus, 

 sunk like a bootprint in tundra
                 (Oh, how the sphagnum springs
                 and springs, how it soaks and soaks
                 again.) 
The pandemic will mark us all, in some glacial-melt way for the lucky of us who haven't lost anyone to the virus yet, and in the way a forest recovers from fire for others suffering with long-COVID. Each small striation of loneliness and disconnect will mark our hearts. Maybe after all this, we'll find a small bog between the rocks we've piled up to protect ourselves, and in the bog the wonder of sphagnum moss. Carbon rich, dense, and absorbent, when we open ourselves to love again, when we can see how giving love might cost us a bit at first, the depression refills, we soak in the rain, and expand.
*
Field Notes for the Alpine Tundra is a book about loneliness, and I've returned to it again, now that I am on an island, away from my mountains, and alone. In some ways, living on Vancouver Island is not so different from how I lived in Prince George. I don't see a lot of people. Instead I go for walks and look at birds. Or try to: they are so far away and so hidden in the giant evergreen cedars.
Elena's book is a gentle reminder to look smaller. In the first year of the pandemic, ornithological non-profits were announcing citizen science participation was growing. Backyard birdwatching was an excuse to notice something outside of ourselves, to distract ourselves from all those we couldn't see. Elena writes to tell us that what we do not notice is not a gap, but a different kind of beauty—the kind that makes us look for some smaller, quieter joy. Citizen science, or field surveys, teach you to notice and celebrate the small finds; how to hold on to and nurture the small highlights of an owl hooting twice in the otherwise quiet, dark night, or how the chickadees return to a feeder every day when the sun hits it just so, refracting a slight rainbow onto the kitchen window. Is joy about quantity, variety, or consistency? Is elation just all three, but happiness maybe one of the above?
Today two caribou appear.
If these are the two I saw yesterday,
I haven't seen four.
(from "Caribou")
*
While the island feels big and busy, I am surrounded by single cell organisms. Algae. Or the slightly more cellularly complex, but still relatively simple plethora of mosses. City noise argues over birdsong and leeches into the thin windows of my old apartment. I become overwhelmed by sound, but know I'll feel better if I leave the apartment. I put in my earplugs, tuck Field Notes into my bag, and count on not seeing birds. Yesterday I walked through a busy park parallel to a busy road, and got stuck between two games of frisbee golf, waiting for each group to complete their throws. Annoyed that I'd trapped myself so conspicuously, I rifled through my bag looking for a piece of gum. As I felt the bent corners of Field Notes for the Alpine Tundra, it seemed to ask What else? What are you missing by only seeing where you're not yet? What if you looked for something outside yourself?
This, too, is a pandemic-worthy lesson.
When I'm noticing the mosses, I'm not noticing the noise of the background traffic. When I'm noticing the slick algae along the rocks, I'm not overwhelmed by the noise of the ocean. When I'm paying attention to the shore around me, I am delighted to see clams shoot their infrequent fountains through the sand. When I'm not overwhelmed by the loss of connection, I can see all the room former friends left for me to grow.
In some form, this pandemic leaves us all with people who will never come back.
*
But Elena doesn't just write about grief—or I don't just read grief into her poems. I read into them the truth that happiness is an opportunist. Happiness appears even in times of grief; despite grief, and sometimes because of it. Happiness might take awhile to return, and maybe not in a behaviour we had before, but we can find a new happiness after we adjust to this interruption:
Year six of study:
Local marmots display
opportunistic behaviour.

They eye our backpacks,
steal a sandwich. Chew our boots
while we nap in the moss. 

When we return to camp, they pose
on rocks beside the food bins,
up to nothing. They slip out
from under tent platforms,
whistle the alert. 

(from "Hoary Marmots: Study") 
And some happiness is only recognized because of grief. What we've lost reminds us of what we have. Maybe at the first alert of the next approaching wave of this pandemic, we'll hold the remaining friends a little closer and reach for our masks a little sooner.
*
Post-script: When I gave Elena a chance to read this review before publishing, she responded saying on her first read, she replaced the word "opportunist" with "optimist" in the previous section. I am pleased for what Elena's eisegesis adds, how it balances my own:
The change of season from growth to grief is blustery but never brief. It is a foggy, slippery hike, and only on arrival can we look back and see how the short distance on the map disguises the difficult, steep grade of our growth.
Optimism grows happiness. It is a map which, rather than marking the terrain as harsh or rough, marks it as home. Optimism sees kin in those who steal our lunch and extends community to those who require space to remain safe. Optimism reads a poem backwards and knows the closed door will blow open again; sees empty tents as an open invitation, a pre-emptive greeting, a resting place for those who've made the climb through the fog.
—
All poems copyright Gaspereau Press, 2015.
Melinda Roy is a queer writer, birdwatcher, and angler from Prince George, BC. She is currently working on her MFA in Creative Nonfiction at the University of King's College; and has work in The Malahat Review, untethered, Augur Magazine, Thimbleberry Magazine, and Ivan Coyote's Care Of. Connect with her on Twitter @mroy_writing or at melindaroy.wordpress.com