Jessica Rose Reviews Non-Fiction From Christa Couture and Claire Legendre For EVENT 50/2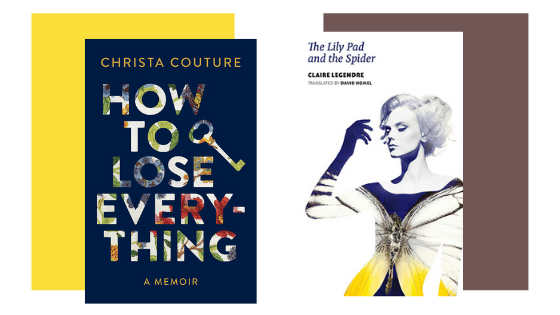 Jessica Rose Reviews:
Christa Couture, How to Lose Everything: A Memoir, Douglas & McIntyre, 2020
Claire Legendre, Trans. David Homel, The Lily Pad and the Spider, Anvil Press, 2020
Grief, we know, is born of loss. Less acknowledged, so is fear. Fear is the loss of what is known or predictable. It's the unseen spider or lurking sickness. Both grief and fear emerge from what we can't control, with a similar physiology: a racing heart, an inability to sleep and an unsettled mind.
'No one ever told me that grief felt so like fear,' wrote C.S. Lewis in the opening line of his 1961 memoir of bereavement, A Grief Observed. In an essay about this same title, novelist Hilary Mantel responds: 'Grief is like fear in the way it gnaws the gut. Your mind is on a short tether, turning round and round. You fear to focus on your grief but cannot concentrate on anything else.' In an instant, grief or fear can reorient a life. This is unmistakably clear in two short memoirs released in 2020.
Christa Couture's losses, unimaginable and at times nearly all-consuming, are the subject of her exquisite debut memoir, How to Lose Everything. Among the most devastating is the loss of two of her children, Emmett and Ford, who remain for her 'echoes, scars and heart-bursting light.' Despite their deaths, one from complications at birth and another from a rare heart defect, they take up space in her life as do the childhood cancer that led to the loss of her leg, the marriage that fell victim to too much grief, and the thyroid cancer that threatened her career as a singer-songwriter.
An award-winning performer and recording artist, Couture has long shared her stories of loss with audiences. This openness about her grief, and her process of learning to live with it, permeates How to Lose Everything, too. In fact, grief is the book's most memorable character, carefully examined and fully realized through vivid descriptions of its physical and psychological manifestations. In 'How to Lose Everything,' the book's final chapter, Couture writes in her colourful, generous prose:
Grief has slowly become integrated into my body and my art. Sometimes it still hurts enough that I gasp for air. Less often, grief curls me into a ball and renders me blind to anything outside of my shape. Other times, it moves into my chest as a wave, and with my hand to my heart and a deep breath, I sway with it until the intensity passes.
Couture's grief journey began in 1989 when a suspected spider bite, or growing pains, became a diagnosis of bone cancer—a tumour wrapped around her fibula, applying pressure to her nerves. The day after her 13th birthday, her left leg was amputated above the knee.
Acquiring a disability as an adolescent and growing into her disabled identity are central themes in Couture's story. Using identity-first language, How to Lose Everything adds an important narrative and voice—that of a queer Cree woman—to conversations of accessibility and visibility. Couture writes with joy about how her 'flower leg,' a prosthetic adorned by a floral-print fabric laminated on fiberglass, encouraged her, and others, to look at her with curiosity and celebration instead of pity.
Throughout the memoir, Couture challenges common perspectives, looking at her own grief as something positive that she doesn't want to disappear: 'Sorrow is a powerful and wise emotion, and you will be wiser with her.' Of the complexity of mourning, she writes:
The loss of two children has deepened my compassion for others, expanded understanding, inspired a letting go of little things and defined what matters most. Nothing could make my children's deaths seem worth it, but I can also feel gratitude for some of the changes. It's a duality that's hard to accept.
With her story laid bare, Couture offers what she calls a 'field guide' to loss, but it's not all tragic. There are moments of gleaming joy that urge readers to look inward, reimagining their greatest hurt. It also acts as a memorial to Couture's two young sons who still inhabit her.
Punctuated by Couture's lyrics and poems, How to Lose Everything is magnificent in its candour. One can't help but see oneself in her experiences of motherhood, grief and, ultimately, hope.
Unlike Couture, who has already faced the unimaginable, Claire Legendre lives in the possibility of what might yet come. The Lily Pad and the Spider, translated from French by Montreal writer and translator David Homel, is an inventory of her fears. A slim collection, it explores the psychological and physical manifestations of her phobias: her heart pounding at the thought of a spider's approach or a love affair's end.
As a little girl, she would stand at the top of staircases and picture herself falling. 'In Prague,' she writes, 'I got used to the fear of missing a step, especially on the way down, I became a practiced veteran, this new city was a treasure-house of challenges to help me triumph over my childhood terrors.' Governed by myriad fears and 'alarmist fantasies,' she still dwells in the possibility, no matter how small, of something catastrophic happening.
Told through striking prose, a hybrid of long, meandering sentences and short, fragmented ones, The Lily Pad and the Spider is lyrical yet sharp, tracing the genesis and symptoms of Legendre's fears, some physical and others unseen. With great care, Legendre skillfully dissects her fears as they pervade her daily life, while sharing delightful stories about her life and travels, which have found her living in France, Canada and the Czech Republic. Born in Nice, she now lives in Quebec, teaching creative writing at the Université de Montréal. Her fears are universal; who doesn't dwell in the possibility that love will end in pain, loss, rejection and loneliness? For Legendre, it's this possibility of bad fortune—'that tumour, that blocked artery, that imaginary aneurism'—that scares her most.
'Those who suffer from phobias understand that the presence of the spider in your room is far more terrible than the spider itself,' she writes in 'Tragic Irony,' the first of the collection's short essays. Her matter-of-fact prose builds tension in readers, forcing us to question what lurks in the shadows:
Once you have crushed it against the white wall, the panic over the spider will send you on a frenetic search in case, by some chance, her sisters might be tormenting you from another spot in the room. Because there is something worse than being colonized by a spider—or a tumour—and that is not knowing you have been infiltrated.
In many ways, The Lily Pad and the Spider is about what one can't know: unseen maladies and impending events. Until Legendre receives her own diagnosis of a tumour, the book is largely rooted in what could happen in the future, a stark contrast to How to Lose Everything, which finds its footing in the past and present.
How to Lose Everything and The Lily Pad and the Spider beautifully express what we all collectively fear, including being alone, death (our own or the deaths of those closest to us) and missed opportunities. Each book moves back and forth through time with ease, disrupting the chronological narrative typical of many memoirs. Looking both inward and outward, they deftly explore the most primal of human experiences, reminding readers that while tragedy is inevitable, and likely lurking, healing is possible.
—Jessica Rose