50 Years of EVENT Magazine: Collected Notes on Writing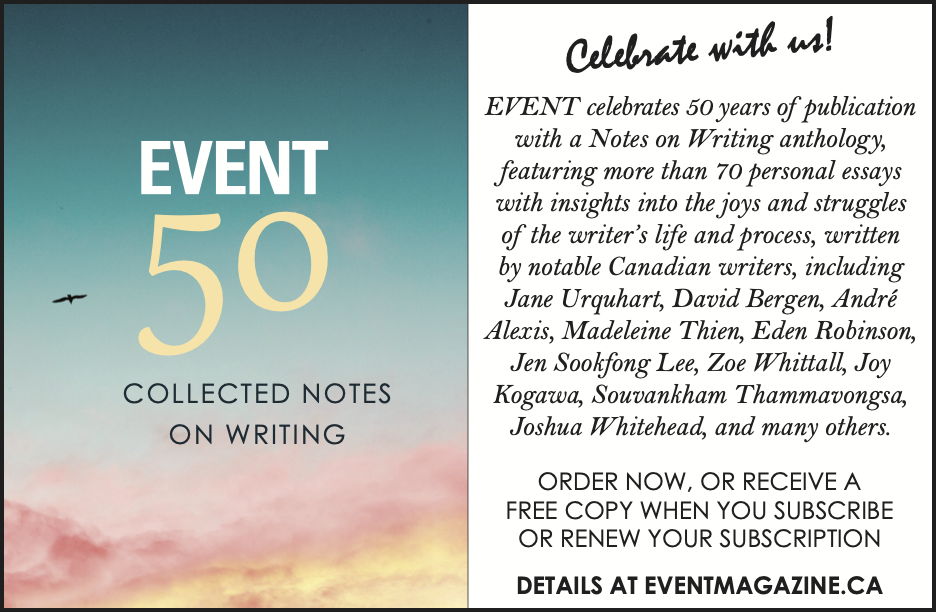 Celebrate with us! 50 Years of EVENT Magazine: Collected Notes on Writing is at the printer.

EVENT celebrates 50 years of publication with a Notes on Writing anthology, featuring more than 70 personal essays with insights into the joys and struggles of the writer's life and process, written by notable Canadian writers, including Jane Urquhart, David Bergen, André Alexis, Madeleine Thien, Eden Robinson, Jen Sookfong Lee, Zoe Whittall, Joy Kogawa, Souvankham Thammavongsa, Joshua Whitehead, and many others.

Preorder yours now! Weighing in at 284 pages, this special anthology makes a great holiday gift for the reader or writer in your life.
Two ways to order:
Purchase a print copy for only $19.95 (plus applicable taxes). Copies will be delivered starting early November 2021. Purchase a digital edition for only $9.95 (taxes included). Digital copies will be delivered starting early October 2021.
Purchase a print or digital subscription to EVENT, or renew your subscription, and get a free print or digital copy as a thank-you gift. (This offer runs from September 26, 2021, based on available supplies. Does not apply to subscriptions obtained through our annual Non-Fiction Contest or Reading Service for Writers.)
Don't miss our launch party, happening Sunday, September 26th during WORD Vancouver. Tickets can be purchased here.