An Interview With Dave Margoshes on apart, an Anthology by the Saskatchewan Writers' Guild
Apart: A Year of Pandemic Poetry and Prose is a splendid new anthology published by the Saskatchewan Writers' Guild. The 240-page book contains seventy-four pieces of work (forty-seven poems, thirteen short stories, thirteen essays and a scene from a play), all written by SWG members, inspired by or evoking the dreadful year and a half of pandemic we've all just lived through. It was edited by Courtney Bates-Hardy and Dave Margoshes.
The writers come from all over Saskatchewan, and there are several in this book from elsewhere, Calgary, Vancouver Island, Ontario – even one from Alabama and one from Budapest. The writers are a diverse bunch, with an assortment of races, religions, skin colours and sexual orientations. There's a medical doctor, a few teachers, a sprinkling of PhDs, half a dozen current students or recent graduates of university MFA in writing programs, five former Saskatchewan poets laureate and Canada's current parliamentary poet laureate, Louise Halfe. Other big names include Sharon Butala, Leona Theis, Jeanette Lynes, Alice Kuipers and Robert Currie. But there are also pieces by writers appearing in an anthology for the first time, and a few being published for the first time, period.
EVENT spoke to editor Dave Margoshes about the book, which he describes as an important testament to a difficult but memorable time in our lives.
---
Dave Margoshes is a Saskatoon-area poet and fiction writer whose work has appeared in many Canadian literary magazines, including EVENT, and anthologies. He has appeared six times in Best Canadian Stories and has been a Journey Prize finalist. Among his many books are Bix's Trumpet and Other Stories, which was a Saskatchewan Book Awards Book of the Year and a ReLit Award finalist, and A Book of Great Worth, named one of Amazon.ca's top hundred books for 2012.
---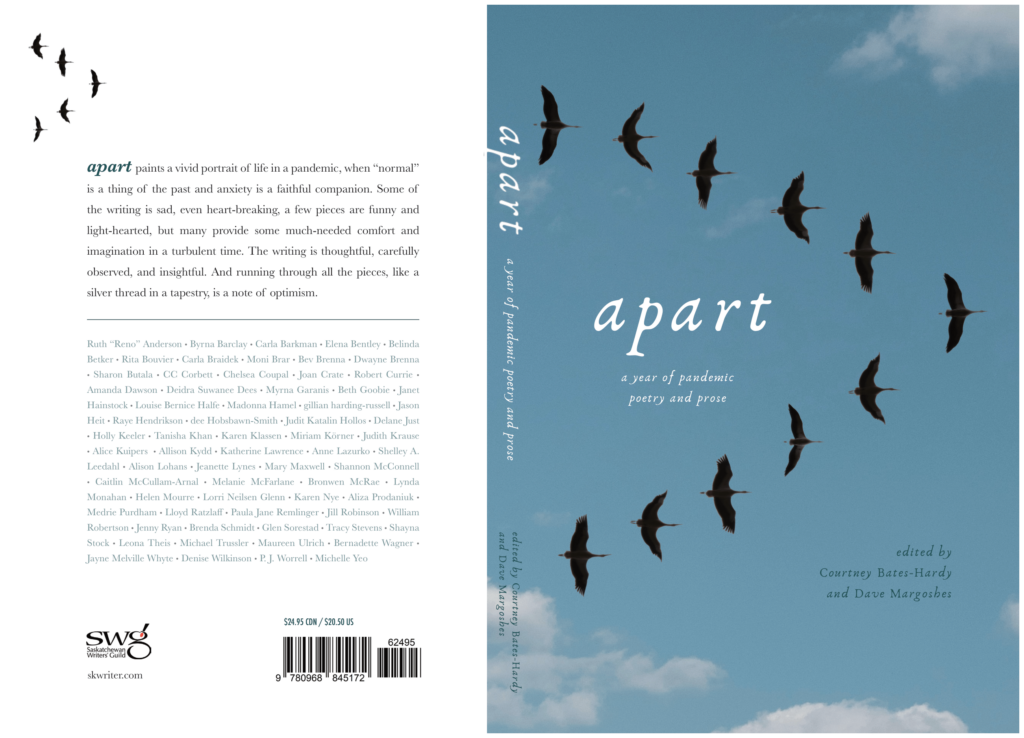 Hannah Macready: Hi Dave, thanks for taking the time to speak with me. It's been a wonderful treat to read through apart—truly heartbreaking at times and joyous at others. As I currently sit in BC, fully vaccinated, masks no longer mandatory in public spaces, I feel both nostalgic for these pieces and anxious about their resurrection. Parts of me want to forget the pandemic and all its hurts, but the artist in me urges my hands to continue turning pages, to remember, to let myself feel the entirety of the last year and a half. While curating this collection, did you ever feel overwhelmed? Or was it more of reckoning with history, a taking down, a call to arms?
Dave Margoshes: Your reaction to the anthology is interesting to me, Hannah, especially the nostalgia, though I'm pleased that your response to it was so visceral. I can't say I felt anything like that—certainly not overwhelmed. (apart is not overwhelming in the way the new sexual assault anthology Resistance is, for example.) It was exciting seeing the wide variety of responses to the pandemic that our call for submissions produced. I imagine some writers were already producing pandemic-related work (I wrote a COVID-inspired poem very early on), but I think most of what we got, particularly the prose, was only written in response to our call. That felt important—that we were not only collecting and publishing this work but that we had instigated it. I think apart is an important book and our role (my role included) in creating it is gratifying,
HM: The collection features poetry and fiction from a wide range of Saskatchewan writers, all members of the Saskatchewan Writers' Guild. In your forward, you mention that because membership was a requirement for submission, you increased the number of SWG members this year. How did you, and all the new and old members, find ways to connect throughout the pandemic, despite the restrictions? Did the experience of the pandemic change your guild in any other ways?
DM: There have been some Saskatchewan-published anthologies in the past (though not in recent years) but nothing quite like this, with so many writers involved and focused on one specific subject.

I wouldn't say that we "connected" other than through email. So subject matter aside, the development of this book—the idea, the call, reading and selecting, editing, arrangement, etc.—was really no different than any anthology or magazine special edition. But because the contributors were all SWG members—and part of the fairly tightly-knit writing community in this province, which is different than you'd find in most other regions of Canada—being "all together" in the project was special. I think everybody involved, including seasoned pros, felt glad to be part of this.
Also worth noting, though, is the huge amount of activities the writers' guild continued and expanded throughout the pandemic: readings, workshops, residencies, etc., delivered through Zoom and other online platforms. So even though we were "apart," the guild kept the writing community together. And since its publication, there have been a couple of online launches (an official one from the guild and an unofficial one organized by Regina poet Bernadette Wagner that involved a dozen contributors from around the province), and there'll be a couple of live launches later in the fall.
HM: What made you want to curate this anthology and what excites you about the final product?
DM: The final product is something special I think. I've been in a lot of anthologies (as a contributor) and they all have their own special niche and appeal: cancer survivors, American ex-pats, trees, etc., but I've never seen an anthology quite like this one: a portrait of a particular time—and completely timely. 2020 was a year like no other in recent history and this book is a testament to it—not a factual record by any means (no stats in here), not a history, but a testament to human experience during a very difficult period.
HM: I really enjoyed the way poetry and fiction are interspersed together throughout the anthology. There's even a multimedia piece and a play woven in. Similar collections would choose to separate the genres on one side of the book or the other, but I find this style much more congruent. What motivated you and your collaborator, Courtney Bates-Hardy, to lay out the work as you did, and what other stylistic considerations go into creating an anthology?
DM: From the outset, my vision was for a cohesive book with its parts (poems, stories, essays, and the play) intertwined. Courtney arranged the poems in a loose movement, from despair at the front toward hope at the end, and I used that as a starting point, folding the prose pieces in. I think it works well.

HM: Some of the writers featured in apart are being published for the first time, while others are poet laureates, doctors, students. A truly wide net of contributors, with Saskatchewan and the pandemic to connect them. While curating the collection, did you find any other points of connection, surprising shared experiences, things you weren't planning to notice but found humanity within?
DM: I can't say I had any "plans" at all, or expectations, other than that there would probably be a lot of variety—and I wasn't disappointed there. A few of the poems are similar, though we tried to avoid that, but among the prose pieces (fiction and essays), each piece is unique. As I wrote in my editor's note, "Some of these stories and poems are sad, some even heart-breaking; a few are funny. Most are thoughtful, carefully observed and insightful." But each stands on its own. I wasn't sure there'd be any humour, so was delighted when I found a few funny stories (and a couple of poems, too). It was important to me that this book not be all grim.
HM: Lovely to have this opportunity, Dave, and really wonderful to get to dive into apart. As a final note, I'd love to give you space to plug the book! Where can people buy it? Who should they tell about it? How can our readers best support this anthology?
DM: We think it is an important book—as well as a very good read—and should live for a long time as a testament to this difficult but memorable time. So by all means, tell your friends about it, put it on Facebook, etc. It's available at bookstores nationally and can be bought from the Saskatchewan Writers' Guild.
The online launch of the anthology is available on the guild's YouTube channel.
—
Hannah Macready lives in Vancouver, BC.