Waking up in a Handstand: Molly Cross-Blanchard Interviews Richard Van Camp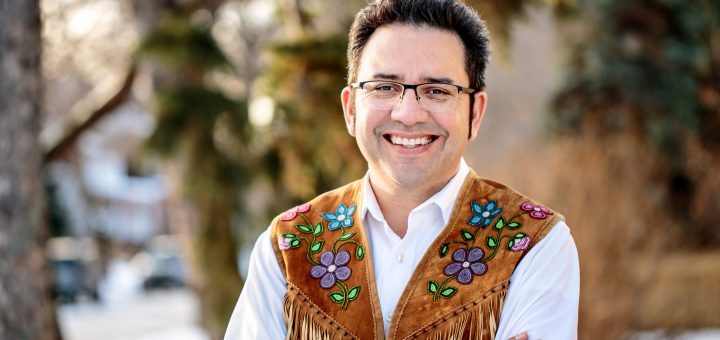 Richard Van Camp is a proud Tlicho Dene from Fort Smith, NWT. He is the author of 24 books in just about every genre. His novel, The Lesser Blessed, is now a feature film with First Generation Films. You can visit him on Facebook, Twitter, and Instagram and at https://richardvancamp.com/.
—
Molly Cross-Blanchard: Hi Richard! I'm very excited to be hosting you at the Indigenous Voices Reading, and to be interviewing you today. Your novel and stories have been big sources of inspiration for me. You made space for the kinds of writing that a lot of emerging Indigenous writers are producing today—funny, gritty, heartstring-tugging writing.
Richard Van Camp: Aww, thank you, Molly. Your words bring me strength for the various manuscripts I'm working on right now.
MCB: As the Indigenous Writer-in-Residence at Douglas College, you've been doing (virtual) classroom visits. What kinds of questions have students asked you so far? What kinds of answers have you given?
RVC: I don't think anyone asked me any questions as I went over my time every single presentation because it's been too long since I've had the platform to offer such an exquisite workshop to such wonderful writers. I kind of went bananas. 🙂
MCB: Ha! I'm sure they appreciated it.
"24 books in 24 years" is what your website says. Does it feel like difficult work, or did you hit the "love what you do and you'll never work a day in your life" jackpot?
RVC: I love what I do. I wake up in a handstand every single day. How lucky am I to get up at 4:50 a.m. every morning and dive deeply into the stories just waiting to be explored? Yippee!
MCB: In your writing, you often break the "rules" of plot and dialogue. And it obviously works. You can tell a Richard Van Camp book from the style and edge. As a reader, it's delightful.
RVC: Oh wow. Thank you.
MCB: People talk a lot about how writing programs can (however unintentionally) teach the pizazz out of a writer's style, and you did UVic and UBC. As a young writer (you were only 19 when you started The Lesser Blessed, yeah?), how did you go about finding and holding on to that unique writing voice? And did you get any push-back from teachers and mentors?
RVC: I received only love and support for my writing style at the En'owkin Centre, UVic and UBC. I think most instructors and professors sense that emerging writers are finding their own voices, so why put the thumbscrews on when writers are just learning to soar? Does this make sense?
MCB: That makes complete sense. I was actually trying to play a little devil's advocate with that question, because I also had a pretty remarkable and supportive experience in my program.
When you look back at your earlier writing, what kinds of emotions come up?
RVC: Peace. I left a lot of pain behind in The Lesser Blessed. Writing is the best therapy. I left a lot of confusion and rage behind in The Journey Forward: When We Play Our Drums, They Sing! I left a lot of doubt behind when I wrote Path of the Warrior, the comic with Steve Sanderson. You shed a skin or skins when you publish, and I'm so lucky to work with the greatest editors, artists, book designers and publishers for my work.

MCB: I would love for you to tell us about any projects you have in the works for the future, or anything you'd like us to watch out for that other folks are doing.
RVC: I'm working on two graphic novels with Renegade Arts Entertainment in my "Wheetago War" series with my dream artist, who shall be revealed when the time is right, and I've just finished a novel: BEAST (working title). I also have a short story collection and a series of very fun essays that I'm sipping at very slowly. All in good time. I have enough on my plate every single day. Oh! I'm also working on a movie with Amanda Strong and her team and the NFB called Wheetago War. It will be stop motion and animatic and a VR experience. I'm the luckiest person I know to work with so many great creators and visionaries and artists who share my passion for the imagination and where stories can lead us.
Mahsi cho, Douglas College, for having me as your virtual Writer-in-Residence. Please invite me back. I had so much fun. If anyone else wants to hire me, contact me. 🙂
---
Molly Cross-Blanchard is a white and Métis writer living on the unceded territories of the Musqueam, Squamish, and Tsleil-Waututh peoples, where she works as the publisher of Room magazine. Her debut full-length book of poetry, Exhibitionist, will be published this April with Coach House Books and is available for pre-order.