That Seventies Show: An Interview With Novelist Nancy Jo Cullen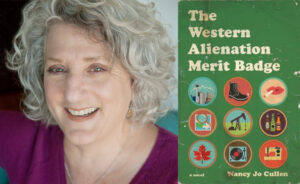 Nancy Jo Cullen's new novel The Western Alienation Merit Badge is a time warp back to Canada as the eighties opened up. The novel tells the story of the Murray family in early eighties Calgary as they face down grief at the death of their matriarch and financial ruin brought on by the recession. Mixing family drama, politics, and queer coming-of-age, it's a breathtaking portrait, rendered in Cullen's irresistible prose, of a family and a city on the verge of collapse. In this interview, the author opens up about the writing process, the influence of geography, and the act of moving characters through the decades. Bonus: Nancy is this month's writer in residence at Open Book.
How did you map out The Western Alienation Merit Badge?
I would have to say that I mapped out The Western Alienation Merit Badge rather haphazardly. It's a first novel and I had lots of big ideas. Originally I thought the book was going to have sections in the seventies, eighties, and nineties then and now. Maybe a little more romantic, a little happier and more about the nineties (obviously!).  So, I wrote the seventies first but felt that the book would be pretty flat going forward chronologically, and my partner suggested that I write back to the seventies, and so I did. The last section is actually the first bit I wrote. So I thought some more about what I wanted to do and felt the eighties and the nineties would be too much the same, and so I focused on the eighties. As a result, some of the characters ended up with smaller roles in the book, particularly Phoenix.
There is a real picturesque quality in the writing, as if you, the creator, set small figurines in a precious setting and dribbled conflict, discovery, torment, love and curiosity from above. What were the early drafts like? Did the characters change drastically?
 The early drafts were choppy. I had wanted Frances to be a little older in the book when I began, so I tried to make the eighties section a little later in the eighties but '82 was the year the books really had to be set in because that's the year that the shit really hit the fan in Alberta. Honestly, the first few drafts were pretty lousy; I had a sense of the tone I was striving for, but there was a lot of bumf in there—filler to get me to the next bit—that I either had to cut or make better. And, I didn't love some of the characters enough yet to make them more multi-dimensional. So, although the characters didn't change drastically in the drafts, I think I found more space for them in my brain and more depth for them on the page. Frankie was pretty easy; I loved her from the start, but I had to find some empathy for Bernadette. And then my friend Olga Filina read a draft and suggested it would benefit from a little more Frances and Reena, and so I kicked that up a little. Robyn was a surprise. When I started the book in the 1970s she was much nicer, but as I wrote I realized she just hadn't turned out to be as good a person as she might have been. I did not start the project out with Robyn in mind as she turned out to be.
Prairie literature has a long-standing place in Canada. Did this influence your process in any way? Good or bad?
I love prairie literature, and I think that's really how I ended up in Calgary. I knew I wanted to write (versus acting—I'd gone to theatre school), and I grew up visiting Calgary because my folks were raised there, and my grandparents and oldest sister lived there, so we'd go see them regularly from the interior of BC. But I ended up in Vancouver after college. I moved to Calgary when I was 23. I was going there in part because of the fantasy of the prairie writer, that Calgary was the place I had to be to become a writer, and I don't think I was wrong. Also, my cousin John visited me in Vancouver when I was vibrating with unhappiness and a general lack of focus, and he suggested I think about moving to Calgary, that it had some good stuff going on. By that time three of my siblings were living there so I moved. My mom and a fourth sibling returned there shortly after I did. And it was such a good city for me and such a terrific place to grow into myself among a great community of women who remain deeply important to me. We sort of brought each other up into creative thinking and feminist consciousness. And it was great to be near my family. I think sometimes people who are unfamiliar with Alberta, and with Calgary in particular, might not realize there is a diversity of thinking in Alberta. Election results would make you think that too, but there's always been a vibrant, connected arts and activist community in Calgary. I wanted to write about Calgary in the hope of making that a little more apparent, although I'm not certain I actually achieved that goal in the novel.
The attention to detail here in your writing is commendable. For example: "The skin on Frankie's nose was tight, burned by the midday sun." How deep was your connection to Frankie?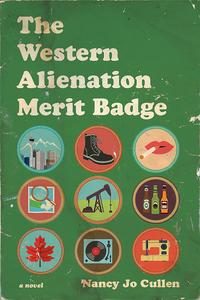 I'm actually not much like Frankie at all. But she does kind of represent my idea of a perfect woman—calm, butch, kind. And so I spent a lot of time just trying to live inside that persona. She's kind of a queered-up homage to the strong silent types that populated the heteronormative romances I consumed as a teenager. She's better though, because the men in those silly books had zero emotional depth.
Canada was changing in '82. Any significance in that year for you personally?
1982 was the year that the consequences of Canada's National Energy Program along with a global recession really hammered Alberta. It was the worst year. And so the book had to be set in 1982 to be true to the Murray's situation. I tried to set it in '83 but realized that it was just off, and I really wanted to keep to the historical facts of the fictional story. I mean, 1982 was a big year for me—I finished theatre school, I turned 20, my dad died—and that, I suppose, explains the cancer backstory, but I knew very little about the problems Albertans were facing at that time. I was mostly in Vancouver and kind of an anxious mess—not surprising given that my dad had just died and had been ill for a number of years. My folks were pretty die-hard Liberals so they didn't hate Trudeau—in fact they loved Trudeau—so I didn't hear anti-Trudeau stuff growing up and I wasn't really aware of the impact of the NEP, nor was I interested in it. I learned more about it after I moved to Calgary in 1985. Some of the stuff that Doris is remembered as having said in the book, though, do come from things I remember my dad saying.
For more info on Nancy Jo Cullen's new novel, go here!