Spoken Word and Working Artists: Hannah Macready Interviews Johnny MacRae
Johnny MacRae is a Vancouver-based spoken word artist, educator and community organizer. He was named Victoria Spoken Word Festival Poet of Honour in 2013, and received the 2017 Zaccheus Jackson Memorial Award. Alongside shayne avec i grec, MacRae forms the longest-running collaborative act in Canadian spoken word, 2 Dope Boys in a Cadillac. Johnny is also the current Artistic Director for the Vancouver Poetry House, whose multi-day event, Verses Festival of Words, runs from April 25th to May 4th.
—
Hannah Macready: The stage can be a dangerous place. In performance the artist often has the safety of the fourth wall to dissolve the audience into the lights. But as a spoken word poet you are more involved with the audience, both in the way you are physically positioned and in the personal nature of much of your work. What draws you to this type of vulnerable performance?
Johnny MacRae: I love the immediacy of it, and the feeling of "working" a room. Being able to see and hear members of an audience responding to your work as it's delivered carries a huge charge. Couple that with the rush of a live performance, and it's an intoxicating mixture. I can think of so many times I've been at shows, whether on tour or at local slams, where I've been feeling so exhausted and muddy I'm questioning why I'm even there. And then, as I begin sharing work and connecting with the audience, I come alive–and as I leave the stage, I feel energized and fresh.
HM: What do you think distinguishes spoken word poetry from the written form? Is it just the delivery of performance, or are there stylistic elements in the writing that make you think,  "This should be shouted into a microphone!" (I mean this with much respect. I personally believe all poetry should be shouted— from microphones, megaphones, tops of mountains, etc.)
JM: I take the view that spoken word needs to be understood as a distinct medium–or set of mediums –from written poetry. In basic terms, when I write a poem, I write for the ear rather than the eye. (Almost every chapbook I've written includes a note saying, "The book is a record, your tongue is the needle.") Spoken word requires a consciousness of body and voice that correlates with a written poem's consciousness of space on the page. The poem needs to "stick" with the audience. People receiving spoken word can't read and re-read on their own time, so they need to receive something in the moment of its performance. And the best spoken word poems I know have qualities that make them pleasing to hear more than once–the same way that when you love a song, you want to hear it again and again.
On a larger scale, I see spoken word forms in relation to the primacy of oral traditions: In some forms, artists are working directly out of ongoing traditions, while for many artists they are engaged in what are sometimes called "secondary orality." In either case, I feel that we are connecting to one of the most ancient and venerable arts practices among humans anywhere. On a deep level, oral poetry enabled humans everywhere to pass on cultural knowledge through thousands of generations, and at the same time, has likely been one of the most integral forms of entertainment and kinship we've shared for tens of thousands, if not hundreds of thousands of years.
HM: Your work has allowed you to travel often, and if my own experience of spoken word is correct I'd wager you've seen more than a few dark coffee shop stages in your tours. So, where is the strangest place you've ever performed? (A note: The definition of strange is always up for interpretation).
JM: I think less about the strangeness of any one show, but the strangeness of the often sudden switches in environment between shows. On one occasion, I spent a weekend performing at a small festival on Quadra Island (shout out to Quadrapalooza!). I spent two nights performing and emceeing for a few hundred people in a field (many of them partying their faces off) on a tiny island. Less than two days later, I was performing a poem in an arena for a few thousand amped-up first-year students as part of UBC's Imagine Day pep rally.
Though probably my favourite strange show was a performance with shayne avec i grec as 2 Dope Boys in a Cadillac. A friend had set us up an evening performing at an art gallery in Syracuse, NY, with a band coming into town from Ithaca. But we arrived in Syracuse at the onset of what turned out to be a 5-day snowstorm. With snow piling up outside and everyone locking themselves indoors, we wound up performing a show for our friend and his friend, and the four members of the band (who performed, in turn, for the four of us). And it was one of my favourite performances we ever gave!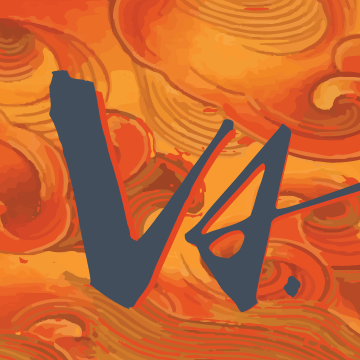 HM: You have been involved with the Vancouver Poetry House (which runs the wonderful weekly Vancouver Poetry Slam, Mondays at Café Duex Soleil) since 2013, and now you are the Artistic Director! You, along with many on the masthead, also started your career performing as a slammer in the very same circle. Now, VPH hosts national and world spoken word events, along with various festivals including the upcoming Verses Festival of Words. Can you tell us a bit about what it's been like to mix your art and performance with professional roles such as this?
JM: I took over this role in December 2018. But I'd been deeply involved with Vancouver Poetry House as an organizer, coordinating our WordPlay Poets program starting in 2013, co-directing the Hullabaloo portion of Verses starting in 2015, and twice acting as tournament director of the CIPS portion of Verses. Being an artist organizer has been alternately maddening and exhilarating. Most of my work has been voluntary, and executing at the level I would like to requires a great deal of time and energy: The burnout is real! If I'm being honest, my personal artistic practice has suffered the last couple years, as my time and energy for creating new works, or even rehearsing existing ones, has dwindled. But I love the events we create. I love knowing that our work creates opportunities for other artists, and especially when that work enables us to support emerging artists. And I love knowing that the platforms we offer artists enrich the lives of people in the communities around me. I have a timeline in mind for when I'll step back, both to give space for other folks to bring fresh perspectives and energy to this work, and to give myself space to nurture and grow my own practice. But in the meantime, I know that as much as I might question why I'm doing this as the exhaustion and stress mounts in the months leading into the festival, I know that by the time the festival is over I'll probably be saying, "Yes, let's do this again and again forever!"
HM: Verses Festival of Words begins April 25th! Of course, as the Artistic Director you're probably overwhelmed with the bounty of talent that you've secured…but we always want the inside scoop! What events are you most looking forward to at this year's festival?
JM: We have so many exciting events this year, I can't even begin to pick which to highlight–there's a little something for everyone. But, of course, there's a few that stand out. Our first big event at York Theatre on April 28th is one that I can't wait for: Vivek Shraya alone is already reason for huge excitement (and I gather Vivek may have a special surprise or two for us), but the fact that we get to be the official Vancouver launch for her and Ness Lee's Death Threat feels a little mind-blowing to me. Of course, our Hullabaloo events–the youth mini-festival that makes up the first three days of Verses–are dear to my heart. I cry on stage at Hullabaloo every year, and it's usually as I'm in the midst of saying how remarkable and moving our youth participants are. El Jones kicks off the festival at Hullabaloo's Spoken Word Jamboree, and she's the sort of artist I feel like everyone needs to hear. Which is great, because that's a free event, so you really have no excuse not to go! Okay, two more highlights: The launch of Write Bloody North on April 29th is going to be fantastic, and I'm stoked that we get to host some visiting artists from Australia's Word Travels and celebrate Mashed Poetics' 10th anniversary on May 2nd. Mashed Poetics was inspired by a show in Australia, so it seems serendipitous that we were able to put together that double-header. Oh, and of course, Regie Cabico at Interrobang?!–AH! Okay, okay, I'll stop…
—
Hannah Macready lives in Vancouver, BC.