Rivers are Creatures, Too: An Interview with Randy Lundy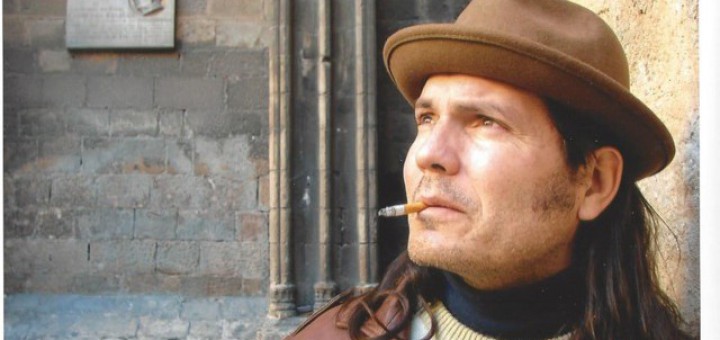 Randy Lundy is a member of the Barren Lands (Cree) First Nation. Born in northern Manitoba, he has lived most of his life in Saskatchewan. He has published two previous books, Under the Night Sun and Gift of the Hawk. 2016 will see the publication of a third books of poems, Blackbird Song. Lundy also writes short stories and is currently working on a manuscript for publication. He teaches Indigenous literatures and creative writing in the English Department at Campion College, University of Regina. Three of his poems were published in EVENT 44.3.
EVENT: Your third book of poetry, Blackbird Song, is forthcoming this year from Hagios Press. Do you feel that this book is quite different from your two previous collections, or does it feel more like a continuation of your earlier work? Has your focus shifted over time?
RL: To me the book feels much like a continuation of the previous work, but I reserve the right to be wrong and to be corrected by better readers than me.
The publisher has said that this is my "most contemplative" work; while that may be true, the preoccupations seem the same to me: time, mortality, memory, the land and its various creatures. Sometimes it feels as though all I have to write about is love, loss and longing (and always the land)!
E: You were born in northern Manitoba and did much of your growing up in Hudson Bay, Saskatchewan, then later relocated to southern Saskatchewan. Where were you living when you first became interested in poetry, or started writing? Do you recall particular influences from that time?
RL: I first became interested in poetry and the writing of it when I was growing up in Hudson Bay. The earliest influence was Archibald Lampman, his nature sonnets. I remember reading them in school and thinking they were beautiful and—while he was obviously writing about a very different place—in some ways spoke to me about the boreal forest where I was growing up. And I remember a particular encounter as a teen with Wordsworth's daffodils! Can't even stand to read that poem anymore, but at the time I thought it was quite delightful. Lampman is still worth reading; still love him.
Aside from those literary prompts, I would be lying if I said that my early writing was driven by anything other than the bush, boredom, loneliness and adolescent hormones.
E: The natural world is very present in your poetry. How did moving from a northern, boreal landscape down into the prairies (and from a rural area into a city) affect you, or affect your writing?
RL: I don't mean to be a drama queen here, but my eyes just got a bit watery reading this question. I was telling a friend yesterday that the boreal landscape and its creatures, including especially the rivers (which are creatures too)—the Fir, the Etamomi, and the Red Deer—just south of Hudson Bay, Saskatchewan, are still very much a part of who and what I am, how I understand myself. Not to mention the boreal forest itself, which we simply call 'The Bush.'
I moved first from Hudson Bay to Saskatoon, and then to Regina, and now live in Pense, Saskatchewan, about halfway between Moose Jaw and Regina where I work. That first move left me bewildered by the absence of the bush, the absence of the bear, deer and wolves that, even if you didn't see them, you knew were there, perhaps just out of sight and leaving signs of living their own lives in very close proximity to human lives.
For a time, I felt empty and a bit lost. Of course, I have come to appreciate the beauty of the prairie environment, and in some way it seems to me that because the bush is not right there in your face, pressing in upon your consciousness from all sides all the time, the prairie asks you to look closely if you want to see what's here. Odd maybe because the vast openness of land and sky physically expand one's looking, but paradoxically perhaps you have to look closely to see—I suppose that's what writers, and especially writers of poetry, practice all the time anyway.
E: In addition to teaching creative writing, you teach Indigenous literature in the English department of Campion College in Regina. Are there any particular texts by Indigenous writers that have become essential to the classes you teach, or to your own work as a writer?
RL: Well, like any writer I suppose, my reading is not restricted by my ethnic/cultural backgrounds. But, yes, especially when it comes to teaching Indigenous literatures there are certain essential writers/texts: Thomas King, Eden Robinson, Greg Scofield, Louise Halfe, Marilyn Dumont, Daniel David Moses and Tomson Highway, just to name a few (and with apologies to the many fine writers I neglect to mention), especially that Trickster Highway, whose roots are in the same reserve/First Nation.
In terms of American writers, folks like Scott Momaday, Simon Ortiz, Louise Erdrich and Linda Hogan are outstanding. I am a huge fan of Linda Hogan's poetry; she's one of those writers whose words I sometimes wish I had written.
E: What other books or writers do you think have influenced your own writing the most, over time? What is inspiring you or capturing your creative attention at the moment?
RL: Other writers over time? Well, I could go on and on, but let's keep it short. Patrick Lane has been a huge influence. Less directly Pablo Neruda. Charles Wright. Mary Oliver. Tim Lilburn. Don McKay. Jane Hirshfield. Louise Glück. Recently stumbled upon Joanna Klink, who teaches at the University of Montana, I believe. Love her work. Circadian would be a grand book for anyone to begin with. Brian Teare is very good, I think. I also recently encountered Field Notes for the Alpine Tundra by Elena Johnson and am very excited about the work she is going to produce in the future!  😉
As for my imagination these days, I am writing what, for lack of a better term, I'll call prose poems. I have already moved past the soon-to-be-released Blackbird Song and am exploring Buddhist philosophy and trying to mesh some of that thinking with what I suppose is an indigenous sensibility toward my hobby-horse themes of land, memory, mortality, and some sense of what it might mean to live an ethical/spiritual life as a writer.
E: What fills your time when you're not teaching or writing poetry?
RL: Well, if you suspect that at this point I might mention my dogs, then your suspicions are correct! I share a home with four dogs: two Great Pyrenees, a brother and sister named Alex and Mabel; a mutt rescued off the streets of Pense, named Gracie, who looks suspiciously like a Treeing Tennessee Brindle, a breed of mountain cur; and a Bullmastiff cross, named Reta after my Irish kohkum (grandmother).
I suppose being a single fellow living with four large dogs (they range in weight from 70 to 165 pounds) qualifies me as something of a nut, but they are among the best people I have ever met! Fantastic and loving companions. The two Pyrenees I brought into my life. The other two dogs arrived in my life when I was in a relationship, and when that went south I had to decide whether my ex-partner was going to re-home the dogs with strangers or whether I was going to keep them in this pack. Well, you know what happened!
My best days are those I spend puttering round the backyard with the dogs—the four of them snoozing in the shade or getting up to mischief and me digging holes, moving rocks around, planting and pruning. Best thing I have discovered for my own spirit.
—
Interview by Elena Johnson
Elena Johnson is the author of Field Notes for the Alpine Tundra (Gaspereau, 2015), a book of poetry written at a remote ecology research station in the Yukon. She has been a finalist for the CBC Literary Awards and the Alfred G. Bailey Poetry Prize, and her work has appeared in numerous journals and anthologies, including The Fiddlehead, ARC, Lemon Hound and Best Canadian Poetry in English 2015. She lives in Vancouver.