To write about one's dead: Talking poetry with Renée Sarojini Saklikar.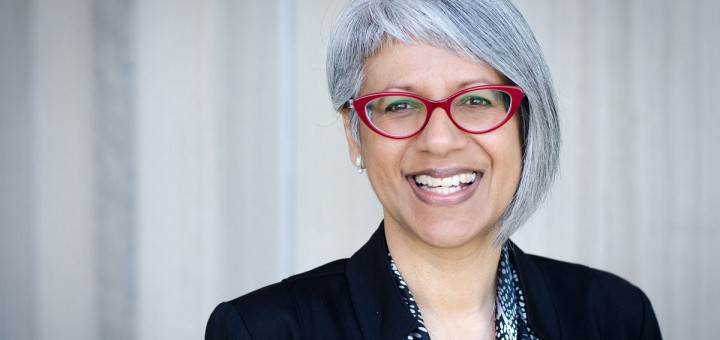 We're happy to bring you an interview with Renée Sarojini Saklikar, writer, poet and EVENT Advisory Board member. Her first book, Children of Air India, won the Canadian Authors Association Poetry Award (2014). In it, she handles the events of June 23, 1985, with both a deep personal involvement and a cold distance, excavating hard facts, media snippets and legalese. Check out Children of Air India at Harbour Publishing.
EVENT: Children of Air India is at once conceptual and traditional, elegaic. How do you feel you sit in relation to other poetic traditions?
Renée Sarojini Saklikar: Well, I am deeply interested in learning and practicing within both conceptual/language and lyric/formalist traditions. Song and anti-song, the displacement of the lyric "I" and the cleaving to narrative, both representative (tell me a story) and subversively paratactic.
E: As I read it, there's a lot of tension between the highly personal elegies and the cold governmental/journalistic texts that appear throughout. What did you have to keep in mind to set this up?
RSS: The interesting thing for me, looking back on the text with a view to your read of it, is that I did not consciously contrive or set up anything, really. The book took me five years to write, with many failures and many strivings. Once I let go of striving, once I started to pay attention to language patterns, a kind of silence rose up, along with individual voices, each with their own register. Perhaps that sounds too mystical. Also, it was absolutely physical, material: the sounds of language, they are what led me to form, to space, to the page as a field. Alongside the writing, I took photographs of documents, and I took photographs of my "messing" with these documents, such as shredding news clippings and media representations, then of massing these shreds of paper into mounds, then of touching the mounds. That sort of thing. As well, there was the whole process of redaction, wherein, I murdered my own text. That was terrifying and once I did it, after a prolonged period of unease, the work took on a kind of solidity, and so in that way, indicated its readiness.
E: I was first drawn into the book with the early "Exhibit (1985)" poems. Giving a voice to the characters, making them human and relentlessly cutting them down with the legalese "Status: bodies not found" is…well…difficult to read. Could you speak to your emotional experience writing these?
RSS: I think my previous answer touches on this…these voices and the form you've noted, those arose from the thousands of documents and hundreds of personal stories I either experienced through my own family records or through twenty-five years and more of being both subject-object of the Air India/Canada saga (my aunt and uncle died in the bombing) and also from the act of sifting, reading, and just sitting, surrounded by the archive that is Air India, the incident reports, the court transcripts, the inquiry reports and as mentioned, the news media reportage. If you've heard of or read, Dan O'Brien's work, War Reporter, you will see he used a similar method and approached the telling of his poems in a similar way. Both Dan and I were interviewed by Joe Planta for his audio blog and I recommend that source for those interested in these sorts of things.
E: You say in a CBC interview that you're not a mystic, but you really are—in a totally non-mystical way—giving voices to the dead. How do you feel about your responsibilities regarding this?
RSS: Terrified! To me, to write about the dead, whatever the circumstances, is an awesome (in the old fashioned sense) responsibility and a transgression. To write about one's own dead—let alone the dead of other people—is to become transgressor. Also, transmitter. The two conditions co-exist. Very scary. Not to be taken lightly. At a reading I gave at the University of Western Washington, a highly regarded scholar asked me if I believe in ghosts. We were speaking of conceptualism, of subject-object relations, of modes of representation, and without a beat, Do I believe in ghosts? Yes, I said. Yes.
E: You tackle an enormous amount of source text in the book. What was your strategy for dealing with it?
RSS: I wish I had a strategy! It was as if fumbling for a long time, from within a long dark tunnel, with a cold clammy wind rushing by my ears. Really.
E: Can you recall anything truly unexpected?
RSS: Yes. My discovery-realization that the bombers tried out their work in the woods outside Duncan, outside the historic community of Paldi, B.C., where, at the turn of the last century and well into it, a thriving working class community of multicultural immigrants worked the land and took from it, too. There's a whole section to Children of Air India that delves into a series of sideways examinations of what it means to live inside history, in this case, the history of Empire, that I always thought was/is lacking, in discussions of public/personal trauma, such as the Air India bombing. I never anticipated writing about that…the place of Paldi became and is now, for me, a site of pilgrimage. Totally unexpected. And here I must credit my publisher and editor, Silas White, who supported my vision for including a whole section about a ghost village that on one level is quite removed from common perceptions of "Air India Flight 182" and yet also, for me, is intricately linked to how we frame the bombing: what gets told, what remains a part of silence.
E: Can you describe how your understanding of the tragedy has changed from exploring at such a depth?
RSS: I'm not sure I understand anything any better after such a long writing process. If anything, there are only more questions. The book is a question, I think, about violence, about murder, about historical witness. What does it mean to be human, and of this place, and part of this kind of saga? The book is that question.
E: As complex as the book is, I had the sense that you were trying to communicate it in a way that would be imminent and understandable–such as in your introduction, which lays out your project in a really straightforward manner. Was this a concern of yours?
RSS: Interesting. Not a concern so much as a longing. I had the benefit of very fine mentors, such as Betsy Warland, Wayde Compton and Rachel Rose. Also, Don McKay and Sandy Shreve spent time discussing the manuscript as well as Rolf Maurer. From each I learned a different facet of what I needed to tell this story. From them, a sense grew of how this book was a kind of act of historical resistance, to set out a way of telling that would not confirm anything, that would resist too easy a meaning-making approach and still be from a place of authenticity: how to enter into language, how to get beyond description to some kind of 'truth.'
In the end, the process became more about the sounds inside words than anything else and I learned that if I could listen as carefully as possible to that cadence, then the work would take care of itself.
Most definitely there is no way I could have told you that at the time I was creating this sequence of poems. I just sort-of entered a trance-like state of working every day with the materials.
E: That's fascinating, and very different from my own experience. May I ask about your writing trance? Do you recall it well? What was it like?
RSS: Not sure I can add too much more, and no, memory calls up only a sense of sound, of cadence.
E: Room's Taryn Hubbard & I were talking about your use of redactions and censorship. This seems to be a major interest of yours, connecting with both memory and government records.  How do you see these functioning in the greater scheme of the book? Did adopting this style reveal anything to you?
RSS: Always, it became about and is about, the silence. About how to score silence. About the cadence one hears inside a language, about how to get inside the different registers of tone and diction that any poem must investigate. The work of Catriona Strang and Peter Culley as well as Rachel Blau Duplessis helped me in this regard.
E: How has the book been received among those closely affected by the tragedy? Can you recall any striking moments?
RSS: I am grateful beyond measure for the support of my orphaned cousin, who lost his mother and father. At readings, I am almost always approached by someone, somewhere, who either lost someone, or knew of someone.Three hundred and twenty-nine people, it becomes a community of loss. My mother has been very supportive, although we don't talk about the content of the book. One striking moment stays with me, from back in 2010, when the book was just coming together. I was a student at SFU's The Writer's Studio, and a colleague of mine, after I read an early iteration of the work, came up to me, his face paper-white, and told me his aunt had died in the bombing. We'd gone through a whole year's program of workshops and events and classes and had no idea of this commonality. I remember how we just looked at each other…
E: I can imagine how harrowing that could be.
RSS: Yes, harrowing pretty much sums it all up…
E: Reading Children of Air India, I couldn't help recalling Zong! by M. NourbeSe Philip, another book that works with legal language to make sense of  a tragedy and speak for the dead (at much greater distance and much less accessibly). Have you read it? Did it make an impact?
RSS: Yes! Not only did I read it, I met with the author at a reading she gave in Vancouver (phenomenal, it will stay with me always) and after, she and I discussed her process and she was very helpful. The work is cited at the end of Children of Air India. So, yes, the work of NourbeSe Philip, is what I call a 'way-finding' text. Gratitude! (Which is the fount of justice. A preacher man once told me that.)
E: Do you have another writing project coming up that you're excited about?
RSS: Well, yes, as I write a lifelong poem chronicle. Children of Air India is the first completed sequence of that chronicle and volume one of a planned trilogy. I'd been working on volume two since 2008 (!) when I realized that I could no longer work on such pieces simultaneously and still get them completed. So, I set aside volume two, which is another book length sequence, a journey poem, where two people, a man and a woman, travel from an imaginary place, Pacifica, to Toronto, Paris, Baghdad and many things happen, some quite terrible, and so on. And then there is volume three, a prose poem novel, The New Douglas Chronicles, about an imagined town on the banks of a mighty river. My hope is for Children of Air India and these two other works to one day be boxed up in a set. We'll see. As well, I'm working on a series of poems and essays. The work goes on…
E: What have you been reading?
RSS: I am recently returned from a brief research trip to Dublin and am re-reading Joyce: Dubliners, Ulysses, and of course, forever and a day, Finnegan's Wake, especially the Anna Livia section. And in counter-balance to that, I'm reading Kathryn Mockler's wonderful Canadiana poetry, Onion Man (Tightrope Books) and Renee Gladman's novel/prose poem trilogy. I can't get enough of Renee Gladman, partly because we share the same name. Renée on Renee. Hah. That sort of thing. Also Bhanu Kapil (my mother's first name is Bhanu).
E: What do you want to be reading?
RSS: Pretty much everything in the poetry world: trite rhymed doggerel, old 'man-Masters' and all the canon, especially Donne, George Herbert and Gerard Manley Hopkins. Beckett, forever! And all the moderns, post-moderns, from Oppen to Collins and everything in between. Hallmark greetings cards, CKNW radio adverts…everything ever written and read, out loud, by Maxine Gadd. All of it. All the cadences.
E: Wonderful – you are a magpie. I love that Hallmark cards get a mention in the same breath as the English canon. Can we expect exciting clashes of high and low culture, or perhaps some more conceptual, source-text heavy works?
RSS: I love the idea of a clash of high and low culture! It is happening all the time, in everything…yes to conceptual, yes to the text as material, yes to song/anti-song.
E: Thank you, Renée. We can't wait to read more from you!
Renée can be found online here. 
Interview by Joshua Grant for EVENT.
Photo by Vessios Photography