Upcoming Event: Aboriginal Voices, an Evening of Poetry & Prose
On Thursday, November 16, EVENT Magazine and Douglas College's Aboriginal Student Services office will host five notable local Indigenous writers, in an evening of poetry and prose. Join us to hear these writers share their work and talk about their writing processes, at the 2nd annual Aboriginal Voices event.
The event will run from 7-9pm in the Douglas College New West campus's Aboriginal Gathering Place, and is free and open to the community. Refreshments will be provided.
Please RSVP HERE on our Facebook event page.
Featured readers are Joseph A. Dandurand, Louise Bernice Halfe, Wanda John-Kehewin, and Jules Koostachin.
Joseph A. Dandurand is a member of Kwantlen First Nation located on the Fraser River about 20 minutes east of Vancouver. He resides there with his 3 children Danessa, Marlysse and Jace. Joseph is the Director of the Kwantlen Cultural Center. Joseph received a Diploma in Performing Arts from Algonquin College and studied Theatre and Direction at the University of Ottawa. He recently published two books of poetry: I Want by Leaf Press (2015) and Hear and Foretell by BookLand Press (2015). His newest book of poems: The Rumour, is forthcoming from BookLand Press.
Wanda John-Kehewin has studied Criminology, Sociology, Aboriginal studies and Creative Writing with Simon Fraser University's 'TWS Writing Program. She uses writing as a therapeutic medium to understand and respond to the near decimation of First Nations culture, language and tradition. She will be attending UBC part time taking Creative Writing courses in 2018. She has been published in Quills Poetry, Salish Seas, UBC's Aboriginal Anthology and SFU's Emerge anthology. She has shared her writing on Co-op Radio and performed at numerous readings throughout the lower mainland, also reading for The Writer's Union Guild of Canada. Her work is raw and her honesty is a reflection of the amount of suffering the ancestors of the past have endured. She gives her mother a voice who was never heard, but who now has a voice. She credits her children and her own want for healing to be the vehicle to understanding the ripple effects of colonization. The writing process is her way to bridge the gap between losses and to understand the reasons for those losses. Her first book of poetry, In the Dog House, was published by Talonbooks in 2013. Her second book will also be released by Talonbooks in the fall of 2018. Her working title is The Seven Sacred Truths.
Born in Moose Factory Ontario, Jules Arita Koostachin was raised by her Cree speaking grandparents in Moosonee, and also in Ottawa with her mother, a survivor of the Canadian residential school system.  Jules is a band member of Attawapiskat First Nation, Moshkekowok territory, and she currently resides in Vancouver. She is a PhD candidate with the Institute of Gender, Race, Sexuality, and Social Justice with the University of British Columbia–her research focus is Indigenous documentary. In 2010, she completed graduate school at Ryerson University in Documentary Media where she was awarded the Award of Distinction for her thesis work, as well as the Graduate Ryerson Gold Medal for highest academic achievement.  While pursuing her Masters, Jules finished her first feature length documentary film, Remembering Inninimowin about her journey of remembering Cree.  After graduation, Jules was one of six women selected for the Women in the Directors Chair program at the Banff Center in Alberta, where she directed a scene from her feature script Broken Angel, currently in development. Jules' television series AskiBOYZ (2016) co-produced with Big Soul Production about two urban Cree youth reconnecting with the land is currently being aired on Aboriginal Peoples Television Network.
Over the years, Jules has established herself within the film and television community; her company VisJuelles Productions Inc. has a number of films and other media works in development. In 2017, she released her short documentary NiiSoTeWak with CBC Short Docs and also The Butterfly Monument with her co-director/producer Rick Miller.  Jules was also the 2017 Aboriginal Storyteller in Residence with the Vancouver Public Library.  In the spring, Planet In Focus invited Jules as the lead filmmaker to work with Cree youth in Attawapiskat First Nation where they made over twenty films.  She's presently working on a book of poetry entitled Unearthing of Secrets, as well as manuscripts Soul Kept and Moccasin Souls, about intergenerational resilience.   Jules carries extensive experience working within Indigenous community and in several capacities providing support to Indigenous women and children who face barriers; these community experiences continue to feed her advocacy and her arts practice.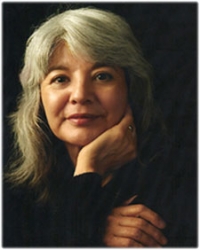 Louise Bernice Halfe, whose Cree name is Sky Dancer, was born in Two Hills, Alberta, and was raised on the Saddle Lake First Nations Reserve. In November 2017, she received the Latner Writers' Trust Poetry Prize, an award given to a poet in Canada with an exceptional body of work. The award's jury citation said, "In the works of Louise Bernice Halfe, we are in the presence of an extraordinary storyteller: one whose voice emerges from profound solitude, and simultaneously opens to a vast polyphony of voices. Halfe's poems are highly attuned to speech, silence, and stillness; to breath, to incantation; creating a taut, resonant relationship between the page and the reader."
Halfe is a former Poet Laureate of Saskatchewan, and the author of four books of poetry, including Bear Bones & Feathers, recipient of the Canadian People's Poet Award; Blue Marrow, a finalist for the Governor General's Award, the Pat Lowther Award, the Saskatchewan Book of the Year Award, and the Saskatchewan Poetry Award; and The Crooked Good. Her most recent book, Burning in the Midnight Dream, was released by Coteau Books, and winner of three Saskatchewan Book Awards.
RSVP HERE on our Facebook event page.