EVENT Breaks Records in Annual Fundraising Book Sale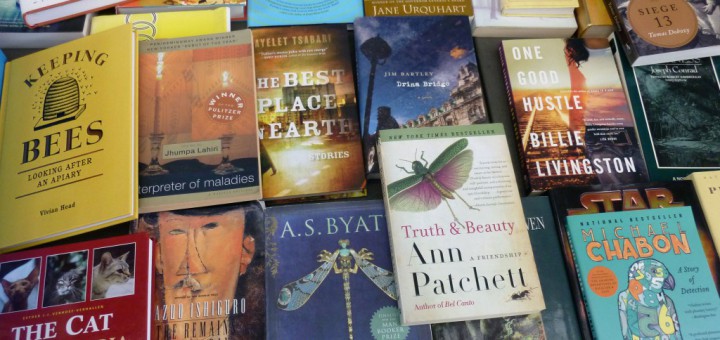 EVENT's Annual Fundraising Book Sale took over the Douglas College Concourse last week with a dazzling—no, stupefying—number of books: books in rows on tables, books lined up in boxes, books on rolling carts, books spilling from the hands of patrons as they gasped in disbelief at the selection and the low, low prices! We had books in every colour, books in every genre, ranging from the literary to the strange, Wayson Choy alongside Stephen King, macroeconomics texts right next to books on how to heal your soul…or how to avoid killing your houseplants.
One woman filled a large cardboard box with thrillers, then asked politely if she could have a second box. A gaggle of daycare kids descended on our children's books—"Garfield!" one shouted. "Diary of a Wimpy Kid!" yelled another, high-fiving his friend. We saw people on their way to lunch meander by our sale and leave with EVENT tote bags straining under the weight of Margaret Atwood's The Robber Bride. We saw the kind of excitement usually only reserved for free food.
Thanks to generous support from the Douglas College community, and the Douglas College Foundation's generous matching of a portion of the proceeds, EVENT raised over $8,000 from sales and donations during the week. We shattered our previous records, and this will allow us to continue publishing the very best in contemporary literature from Canada and abroad.
Our sincere gratitude goes to to Douglas College staff, faculty, family and friends who donated and visited our book sale. And a special thank you to our many dedicated staff and volunteers:  Christine Dewar, Susan Wasserman, Jacki Mameli, Krista Eide, Calvin Wharton, Lorna McCallum, Theresa Kenkel, Shashi Bhat and Ian Cockfield.
See you at next year's sale!