In Conversation on Conversation: EVENT Interviews Joanne Arnott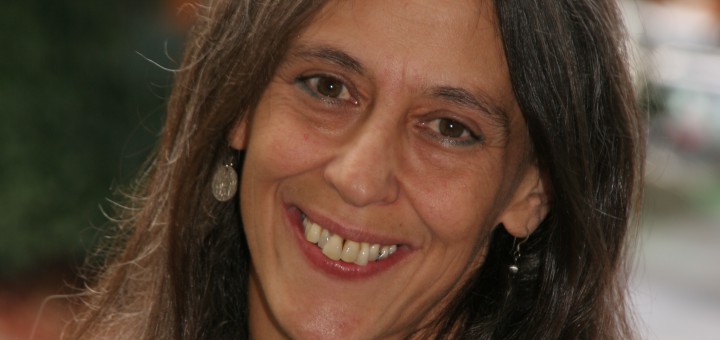 Although often used as a presentation space, the view from the Teck Gallery at Simon Fraser University's downtown Vancouver campus threatens to upstage any performance. Through the picture window, nature observes the rule of threes: sky, mountains, ocean. Slashes of urbanity: North Vancouver creeps up the slopes toward the ski hills. Seabuses shuttle tourists back and forth across the inlet. It's stunning, and potentially distracting. Maybe that's why artist collective Instant Coffee chose to mount an installation in the Teck—a magenta curtain is rigged to close for five minutes every hour, cutting us off from the view.
Today I'm here to enjoy some poetry, courtesy of Lunch Poems at SFU. And so are 30 Grade 7 students, an unexpected addition to the audience. They rustle around and giggle, lunch bags crackle, endless requests to use the washroom are granted by the two enthusiastic teachers sitting next to me. Lunch Poems regulars arrive, brows furrowed at the perceived intrusion. Everyone wants kids to appreciate poetry, but maybe not right here, right now.
'I'll just tailor my presentation a little,' Joanne Arnott says to me, laughing. She'll be reading from her recent book, A Night for the Lady (Ronsdale Press, 2013). I've read her two previous poetry collections, Mother Time (Ronsdale, 2007) and Steepy Mountain Love Poetry (Kegedonce Press, 2004) and I know her work doesn't shy away from the gritty, or the erotic. I think the kids are going to love it.
Every time I run into Arnott, I have to resist the urge to sit at her feet and ask her to explain everything to me. Many emerging writers feel the same way when they find someone whose work they connect with. Creative writing and mentorship programs are built on this. Arnott's intelligence is intimidating, but she's willing to keep communication lines open between herself and readers. In fact, she gives the impression that she'd have it no other way. In the end, she doesn't tailor her reading for the Grade 7s; instead she stops halfway through a poem and acknowledges that the content may be making some listeners uncomfortable. Someone giggles behind me, and I realize that up to this point, the Teck gallery has been silent. No juice-box slurping. No furtive whispers. Arnott's had us all at attention for the last 15 minutes.
In the postreading Q&A, eager students ask the usual questions: 'When did you start writing?' 'What inspires you?' Both Arnott and fellow reader Ray Hsu cite the exchange between poet and audience as a source of inspiration. In A Night for the Lady, conversations with colleagues facilitated the collection's exploration of the roles of women in local, historical and global contexts.
At the end of an hour, the magenta curtain pulls itself closed, slowly boxing us in. Arnott and Hsu step forward to avoid being trapped behind it. Thirty young faces turn pink from the reflection.
Arnott is a Métis/mixed-blood writer and arts activist living in Salish territories. A founding member of Aboriginal Writers Collective West Coast, Arnott facilitated Unlearning Racism workshops for many years, and continues to apply peer counselling and storytelling strategies in her work in the literary arts. Her seventh book, Halfling Spring: an internet romance was published this spring by Kegedonce Press. She has two poems, 'drink the sun' and 'inuksuit & angels,' in EVENT 42/3.
EVENT: Some readers like to imagine the poet toiling away in obscurity, with only her words for companionship. But A Night for the Lady puts community in the spotlight, where work arises from conversations with friends and colleagues. Is conversation a big part of your creative process?
Joanne Arnott: Certainly my writing process began as solitary toil, a conversation with myself about the world, and a long sand-papering process toward perfection. At the same time, I was born into a large family, and eventually regenerated that large family environment in my own home life as an adult. So the crowd scene has generally been a point of creativity as well, a context for it. The kernel of this collection was a small handful of poems that hadn't made it into my two previous collections because those were thematic collections, and the poems were outside the thematic realms.
With the rise of the Internet and the possibility of daily conversation without leaving home, I began pursuing relatedness with other writers and other mothers through online groups. This was a very positive process for me, overall. In particular, I participated in a few online groups that centred around Toronto poet John Barlow; these poetry-centric conversation groups were very playful and intense, and brought wildly diverse kinds of people and writers together in a permissive writing environment. I was exposed to a much greater variety of approaches to poetry, as well as an intellectually stimulating combat zone, with some excruciatingly sensitive correspondents. Between the rough-and-tumble of the poetic play and the tenderness and clarity of back-channel conversations, it was an emotionally rich environment and a great learning experience.
The bulk of the poems in A Night were written either directly in the conversation group setting, or found their first readers there. The opening sequence of poems was written in response to email conversation with a local writer, Giles Slade, who had a very different set of experiences and writing life than myself, and the cross-fertilization of styles and motives resulted in some work which, on the one hand, articulated my world view and, on the other hand, honoured the Coast. (I'd gained insight into how very Prairie my internal realms remained, despite living the majority of my years in BC.) Other poems came about through other conversations; now that I had shifted into creating poetry as a reflexive conversational move, I was creating a great deal more poetry, with a greater range of motives and topics.
I think my poetry has long been accessible, so it isn't that that has changed, so much as a sense of myself as a part of a social fabric that is not necessarily hostile to me. Finding oneself in conversation with great swathes of humanity is a great way to dissolve the self-protective armour, and to become a little less fiddly and precious with each and every produced item. The sandpapering process has become streamlined, and the joyful variety of life shines through.
E: What kind of process does an idea undergo to take it from being a topic of conversation to being poem-worthy?
JA: I think that possibility of movement from thought or feeling to poem was accelerated through conversation in the groups and with writers by email—an expansion of the realm of witty conversation, where everyone has the same relaxed potential to absorb poetic nourishment and lay down goods. Not every conversation in the shape of a poem can be lifted out of context and shared with the world, but those which do hold their shape from one context to another benefit, I think, from the group nature or multivalent context of its birth.
Another element of influence and interest for me that has had a hand in shaping the book is that of storytelling. I have had the pleasure of participating in UNBC's Festival of Aboriginal Authors & Storytellers over a number of years. This has been an excellent real-world tutorial, bringing me together with other textual authors, as well as spoken word poets and storytellers from across the North. Over a period of time I was able to visit and revisit who I am—or what I do—and how that is related to ongoing traditions of both storytelling and oratory. In a way it has been strengthening or affirming; there has always been a strong love of narrative lyric that the academy in its southern and urban manifestations has somewhat lost a taste for, but that the breadth of people still do need and find nourishing. The increased exposure to storytellers and writers who are steeped in those oral traditions was also a real-world encouragement, and helped develop a sense of attachment to a broader community that was perhaps less clear for me as a younger writer. The long poem, 'On Apron Flapping,' is the most obvious manifestation of that influence and process, both in style and in content. I wrote that in Prince George, and first presented it there to a group of people who had also been listening to and thinking about the diversity of voice brought together by the festival. But I think the influence of real-world people and their capacity to ground thought and understanding is a big part of my personal process, and the pleasure that I find in the collection is as much about embracing storytelling clarity as it is about loosening up in poetic structure and voice.
E: You've said that the title for this collection is a nod to the Divine Lady (or Ladies) of your Roman Catholic youth, and a more casual and affectionate use of the term. How does your Cree Catholic upbringing affect your exploration of womanhood?
JA: I grew up in a particular context, which was unusually female-centric: I was the fifth of six sisters, raised in my early years by my mother, grandmother and aunties. I began school in Catholic surroundings in large urban settings of Winnipeg (St. Ann's) and Vancouver (St. Casimir's), not in strictly indigenous Catholic settings. I learned that the boss of Canada was the Queen, the boss of Catholicism was the Virgin Mary, and these became the figureheads that loomed above my mother and grandmother, my flock of elder sisters, and the nuns who became my teachers. While St. Ann's was indeed a mission church, St. Casimir's was established by and for the Polish immigrant community, and practised a less severe and more celebratory and iconic flavour of Catholicism.
I could talk a long time about this! I am not Cree Catholic, specifically: My family is a mix of settler and indigenous people from various groups who all came together in Cree and Anishnabe territories, and our miscegenated journeys have been rife with contradiction. For instance, my mother's mother was a Catholic of French-Belgian descent from Forget NWT/SK; her mother-in-law was an angry Irish Catholic. My father's mother was a hidden Catholic, Metis, married to another mixed-blood who was described as Calvinist. So from the start there was severity and stress, or a lack of safe community within our community, and it wasn't until well into adulthood that I even realized that there was an indigenous Catholic community that might be more welcoming to me and my kind than the churches and schools I attended. We were very peripheral to every community we attempted to engage with, until non-engagement became the rational approach.
If I can simplify all this, I would say that the nostalgic strains of music which praise the Woman, the Little Lady and that whole cowboy culture, within the premises of my own being merged with the praise-songs of the Divine Female not only in my family traditions of Catholicism, but in the Eastern religions which I went foraging through and learning from as the next postacademic and post-Catholic phase of my intellectual and spiritual journeys. Feminist writers brought the importance of affirming the womanly aspects of history and religion to the fore, but were constrained by Protestant and Jewish roots, primarily, for those of us constrained to Anglophone texts—and not especially tolerant of Breeders, much less Mothers qua Mothers. Japanese, Chinese, Indian arts, both religious and secular, presented vivid truths about Woman that were clearly more honest or closer to the truth—the lived experience of girls and women— than the muffling debris of cloaks provided by iconic Catholicism.
Literature in translation, too, provided a deepening access to an ongoing conversation about what it is to be human, to fill in the blanks. The impact of reading about the Goddess and the realms of yin and yang, participating in ritual in a small Taoist tan in Vancouver, and tai chi and kung fu in small studios around town, and then travelling to Taiwan and seeing the parades and the festivals and the temples large and small, the altars in the tire shops, and the embodied martial arts practioners at dawn: these are every bit as real as the parade of the Virgin in east Vancouver, and the core of prayer is the same, whether chanted or sung or calligraphed or whispered. I think it is a classic Canadian experience to grow up in settler society never even knowing that indigenous society and communities exist; this has been the effort of many generations of empowered segregationists, and one aspect of the reconciliations going on today are the ripping up of the blinds that obscure the presence and the oppression of indigenous people, whether by the nation in regions where great influxes of settlers and diasporic indigenous peoples have created large metropolitan centres on indigenous land, or by families and individuals through processes of alienation, endangerment and intermarriage. In eras where an indigenous woman is guaranteed to lose her children to the state if she marries another indigenous person and 'stays home,' and there is a choice of partners across a spectrum of indigenous and non-indigenous persons, there is some self-protective or economic pressure toward marrying out. I hope this isn't heard in a reductive way; there are families across the land mass where white people married into indigenous nations, just as indigenous persons married into settler nations. Dorothy Christian is one who has written very movingly of one family's manifestation of this path, and many northern communities are host to this dynamic. Whalers and so on have been a huge boon to the dissemination of miscegenated gene pools and social diversification that is far beyond the reductive white-indigenous confines of this discussion. Maori and Hawaiian whalers, as well as the breadth of the sea-going communities, participated in the generation of Canada-as-we-know-it, and eventually the hyperfocus on European contributions and controls can be eased off centre stage to give ourselves a glimpse of our fuller collective wholeness.
Really ranging far from your question! Basically my sense of myself as a human being has walked through many experiences, and those tagged 'woman' have resulted in a multivalent gathering of work that is best described as a synthesis of world, rather than an expression of a reduced life in a chattel box of oppression.
E: In A Night for the Lady, the celebration of stories and storytelling is clear. 'seahorse migrations' and 'on apron flapping' discuss the act of storytelling directly, while I felt that 'mourning song (a garden for you)' spoke to the healing power of story—how it allows us to remake the world. Do you think writing can be healing?
JA: Absolutely. The dismantling or erasure of boundaries between text and orality is one of the processes to affirm who we are and how we tell our stories, and further to affirm that a poetics of not-making-sense is one that has evolved to protect some while silencing others. In a realm of literature that is truly open to the wealth of literary traditions across the world, whether it be a Musqueam orator or a Chinese calligrapher, or a Musqueam-Chinese author raised in Anglophone schools, we have all of these people publishing in Canada today, and all that needs to happen is a mental shift of desegregation—to step back from a defensive protectorate of WASP Canada, and open the mind to all manifestations of all the literatures of the world meeting and mingling in the here and now.
In 'mourning song' I was specifically evoking some of the traditions that are contemporary to us participating in life in Canada today whose traditions are not necessarily recognized and taught in school, but persist in oral tradition, including those the schools have targeted to systematically erase. The importance of the Grandmother in many indigenous collectives across Canada, in my home territories, across the mountain and coastal communities, and on the East Coast, and in the Upper/Lower Canada historical regions, is something that I was aware of in a post-Catholic context before I fully understood that this is the key or the core of indigenous Catholicism in Canada. I have to thank Michelle Sylliboy and Wanda John-Kehewin, in particular, and Maria Campbell and Sharron Proulx-Turner, for intense learning conversations over a number of years that clarified the breadth of the landscape of indigenous spirituality and of Catholic Canada. Mary Fontaine is another informant who had a very different route to Cree Chrisitianity, and our theological discussions further clarified many things for me. Basically I have come to the realization that in Anglophone Canada today it is systemic to desacralize the female and subordinate the wealth of diverse traditions to a Church of England aesthetic, and/or a secular Jewish one. Fundamental to the process is to pose Francophone Quebec as a straw-man opponent. Thus the predominance of Catholicism is basically invisible, not a part of our collective consciousness. The majority of the teaching nuns that I studied with were Anglophone Americans, so they had no stories to tell about Canada as a landscape or a collectively evolving experience.
When it comes time to give back to the community, to the public, on topics that have huge emotionality and deeply terrifying aspects, I have to draw on the diversity of reality as I know it in order to make sense of the world—to make balance. Likewise, when it comes time to save my own life, to make peace with some deeply difficult reality, I have to draw upon what comes to hand, all descriptions of reality, all forms of nourishment.
There is also a healing loop for writers who begin with an urge of speaking to or of oneself, and expand the base of that conversation. I have always been as much a performing poet as a publishing one, putting my body on the line as well as tossing polished words out across the sea of texts. That is a whole other aspect to the lifelong, formative conversation. Just as a milkman has a set of conversations with the world, a poet or a writer does too, and these conversations are some of the chants that we know, that both form and inform us.
E: 'land in place: mapping the grandmother' is one of my favourite poems in the collection. It's clear that your grandmother (and all grandmothers) play a prominent role in your writing. Do you think absentee relatives, those we never met or were unable to form an emotional bond with while they were living, can also play a role in our stories?
JA: Absolutely. One hundred per cent. Our generation is fraught with questions, and it is possible that a majority of indigenous writers have to undergo the process of going home again—in a way orchestrated by the state—to meet our birth mothers, our birth families, our original communities. Isolation was imposed through the processes of deracination and abuse via residential schooling, economically induced migrations and urbanizations, and the processes of intermarriage and cross-racial adoptions that reflect communal responses to oppression and collective pain, as well as a burgeoning modernity that teaches entitlement to some, and feeds that sense of voraciousness via a cross-community set of impediments which reflect cross-racial mistrust and the contempt of those placed in rulership over others. While the baby-boomer generation came to understand that every wish should and could be granted, and no ordinary limits were placed upon their excessive wants, there have been these subordinated communities at home and abroad systematically destabilized and robbed of resources in the form of land extraction and wealth, and in the far more intimate form of our children, and of our capacities to make and strengthen ourselves as communities.
E: And finally, a question about online community. Many writers don't maintain much of a Web presence, but you've had a website since 2006. What keeps you blogging?
JA: I set up the blog in 2006 on the advice of an early online writers group I was participating in: the listserv of the Writers Union of Canada. For a few years I didn't really know what to do with it. I wanted to promote my work, but I didn't feel comfortable simply talking about myself endlessly and ending each post with 'Buy My Book!' In developing a sense of what I enjoyed discussing in conversation groups, I began to blog with a view of blogging as its own genre, as an independent manifestation of myself as a writer. It is rare for me to post my own polished work on the blog, although I have from time to time written first draft work directly into the portal, which became a polished and published text in the world. Recognizing myself in a social context has been important: Until I was 30 or 35, I didn't have a sense of myself as part of a wider community. This changed when I began to correspond with more writers, asking elder writers for favours, and meeting many local writers to do arts activism. Just as I laboriously moved from seeing myself as a daughter to understanding myself as a mother, I had the late realization that I am as much teacher as student, and part of a cohort of writers who cross-fertilize in an ongoing way. To see the blog as a shared space where I can showcase anyone and any aspect of life that draws my eye, that I can in a sense live my blog the way I live my poetry or essays, or other aspects of life: that is when I began to really enjoy it. I see my blog as a space for many other people—another manifestation of that recreation of the crowd scene we were talking about.
Interview by Carleigh Baker