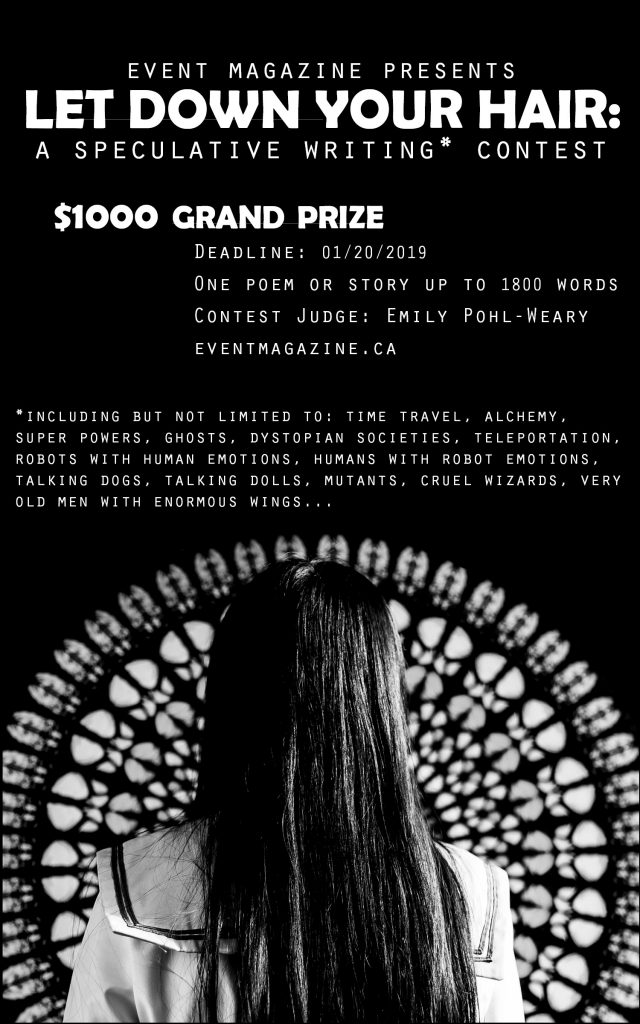 2019 LET DOWN YOUR HAIR Speculative Contest Details
Are you tired of magazines telling you they just don't print science fiction? Are you worried your poem has too many goblins to be eligible for such-and-such contest? Fret no more, because here is a contest where the only limit (other than the word limit) is your wicked imagination.
Genre: Any! Fiction, poetry, creative non-fiction, and anything in between is welcome. We just ask that you keep your piece under 1,800 words.
Prize: $1000 grand prize! Second prize will receive $150. Both winning entries will be published in an upcoming issue of EVENT. All entries will be considered for publication.
Judge: Emily Pohl-Weary
Award-winning author Emily Pohl-Weary's latest books are Not Your Ordinary Wolf Girl, a young adult fantasy novel, and Ghost Sick: A Poetry of Witness, a collection of poetry about tragedy and resilience in downtown Toronto. Emily grew up reading science fiction and fantasy. Her biography of her grandmother Judith Merril (who wrote and edited speculative literature in 1950s New York) won a Hugo Award and was a finalist for the Toronto Book Award. Merril's idea of babysitting was to hand Emily a giant stack of fantasy novels before heading off to chain smoke and work in her office. Emily has also published a middle-grade mystery, two poetry collections, a female superhero anthology, and a serialized girl pirate comic. She is an assistant professor in the Creative Writing Program at University of British Columbia, where she teaches writing for young adults and speculative literature, and she's working on a new novel. www.emilypohlweary.com
Cost: $32.95 per entry; includes a one-year subscription to EVENT and all applicable taxes and shipping—a great deal!
Deadline: January 20, 2019 (submitted online)
To enter: Submissions are being accepted via Submittable.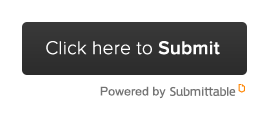 Join our mailing list (on your right), check our blog and follow us on Twitter and Facebook for regular contest updates.
Full Contest Rules:
1,800 word limit on entries.
Entries must not have been previously published, either in print or online, been accepted for publication elsewhere.
No simultaneous submissions.
Do not identify yourself on the entry
Multiple entries are allowed; however, each entry must be accompanied by its own $32.95 entry fee.
If already subscribed to EVENT, you will receive a one-year extension.
If entrants wish feedback and commentary on manuscripts, please check out our Reading Service for Writers.
Preliminary judging is done by the Editor and editorial assistants at EVENT.
Douglas College students, employees and their immediate family members are not eligible to enter. Douglas College students may enter two years after completing courses.
Entries must be submitted online by January 20, 2019.
Contest results will be posted on our website and through social media in April. The winning entries will appear in the September 2019 issue of EVENT.
For more information, contact us at event@douglascollege.ca or 604-527-5293.
Tips
Don't forget to put the title of your piece at the top of the first page.
Manuscripts should be double-spaced.
Pages should be numbered.
---
2017 Contest Results:
And the winners are…
Grand Prize ($1,000):
'Magenta' by V.J. Hamilton, Toronto, ON
Runner-Up ($150):
'Solstice Crab' by Krischan Stotz, Dartmouth, NS
The winning entries, along with Amber Dawn's judge's essay, will appear in EVENT 47/2 (Fall 2018).
Congratulations to all the other short-listed entrants:
'At Swim Two Girls' by Anne Stone, Vancouver, BC
'Perigee' by Lisa Baird, Guelph, ON
'A Limp Sparrow in Her Mouth' by Catriona Wright, Toronto, ON
'Ink' by Kate Barss, Toronto, ON
'Pity' by Joelle Barron, Kenora, ON
'Baby Teeth' by Alexa Eldred, Victoria, BC
'Going to See the Witch' by Danica Klewchuk, Edmonton, AB
'Sustain' by John R. Flieger, Windsor, ON
'The Absence' by Erin Kirsh, Vancouver, BC
'The Laurel Tree' by Sabrina Brost, Vancouver, BC
'The Ringmaster' by Rachel Jansen, Vancouver, BC
Thanks to those writers who sent manuscripts to us–we received 119 entries in 2017–and to our contest readers and judge!
2017 Contest Judge:
Amber Dawn is a writer living on unceded territory of the Musqueam, Squamish and Tsleil-Waututh First Nations (Vancouver). Her memoir How Poetry Saved My Life: A Hustler's Memoir won the 2013 Vancouver Book Award. She is the author of the Lambda Award-winning novel Sub Rosa, and editor of the anthologies Fist of the Spider Women: Fear and Queer Desire and With A Rough Tongue. Her poetry collection Where the words end and my body begins was shortlisted for a 2016 BC Book Prize. Her second speculative fiction novel "Sodom Road Exit" is forthcoming in Spring of 2018.