Jen Currin, A Renowned Collagist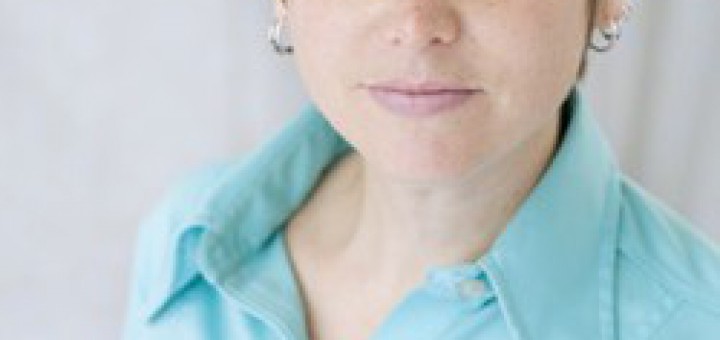 "I think if I were the last person on earth after the apocalypse, I would still be writing. I probably wouldn't have any paper so I'd probably write in the sand with a stick."    – Jen Currin
It is one of
the only sunny days Vancouver has seen this year as I sit across from poet Jen Currin at the Bump n Grind Café on Commercial Drive. She is a familiar face in the neighbourhood. So, with Americanos and snacks in hand, our conversation begins— interrupted only by numerous motorcycles blazing down Commercial. Still, the interview can't help but be rewarding.
We start with chitchat about her newest poetry collection, The Inquisition Yours, winner of the Audre Lord Award and finalist for the Dorothy Livesay Prize and the Lambda Literary Award. The Inquisition Yours was launched on March 27, 2010 in Vancouver and speaks about the devastations of our current world – terrorism, war, and political instability— and maintains the spiritual aspect of human experience, something prevalent in many of Currin's books. "I think The Inquisition Yours is maybe a bit more overtly political, " Currin tells me. "But at the same time it looks at [war] from a spiritual point of view. I was trying to specifically think of the wars in Iraq and Afghanistan as a spiritual problem and consider it that way."
Currin explains how she strays away from narrative poetry and enjoys more creative control in meticulously weaving different things together. "I call myself a collagist," she says." I always write from a notebook," she adds, as she reaches into her bag and finds she has, for the first time, left it at home. She laughs. "I always take notes from reading, from life, from thought, and when I sit down to write, I weave them together. I have a love/hate relationship with narrative."
Currin describes her extensive research and
intake of information for The Inquisition Yours as ambient and intuitive. "I take in independent media like Rabble, the Tyee and the Guardian," she says. "I take in what's happening in Afghanistan or Iraq and use that, or other things like the history of bombing." Currin's specific case studies are even more compelling. "I did research about where soldiers were sleeping and what kind of structures they were sleeping in. It was interesting for me to read about the variety of structures from concrete bunkers to holes dug in the ground, shacks built really quickly and in bombed out buildings."
Currin is excited to discuss where her inspiration comes from and those poets she is in constant conversation with. She describes her love for authors like Anne Carson, Elizabeth Bishop, Dionne Brand and Karl Marx. "I think of myself as a spiritual Marxist, and I actually agree with probably ninety per cent of what he's written," she says. "But for me, there's another consideration for social change and that is the heart and the individual spirit connected to the larger collective spirit."
As an instructor of creative writing courses at Kwantlen University, Jen shares her thoughts on the status of future writers who may be caught up with technology and social media and writing less. "People are using social media more, and there's even stuff like Twitter poetry," she says. "However I don't think people are writing less because of social media. They are just writing differently. I think there will always be readers, we just don't know what they'll be reading or writing. Since I teach young writers, I see their desire to read and to write stories. Creative writing classes are filled."
Not only is Currin encouraged by young aspiring writers, but by the local literary community itself. "A few words that come to mind are diversity, support, knowledge sharing, and learning. Having a place to share your work with people who understand what you're doing is important," she says. "It's great to be able to have conversations with other writers. It feeds the practice."
Coming up for Currin is an English-to-English translation of Elizabeth Bishop. Check out her website at www.jencurrin.com to find out more about this amazing EVENT contributor.
                                                                                                            – By Nicole Freeston